North Carolina wins fourth NCAA title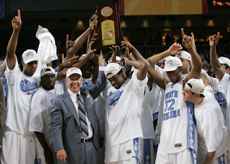 KRT Campus
For North Carolina junior center Sean May, his 21st birthday couldn't have been any sweeter.
The Tar Heel big man scored a game-high 26 points and grabbed 10 rebounds in leading North Carolina over Illinois 75-70 March 4 in the NCAA Championship game. May was also named the tournament's most outstanding player.
Despite playing their worst first half of basketball all season shooting a dismal 27 percent from the field, Illinois made a game of it in the second half by overcoming a 15 point deficit. But unlike their incredible comeback against Arizona in which they won the game after being down by 15, the Illini could not overcome the offensive firepower of the Tar Heels.
Illinois hurt themselves badly by getting into early foul trouble, and when inside threat James Augustine fouled out, the outcome was all but certain as North Carolina was able to get clutch rebounding and the game-winning tip-in by freshman Marvin Williams with under a minute to play. The next trip down the floor for Illinois would provide the turning point in the game when, after two missed three-pointers, guard Luther Head turned the ball over to Raymond Felton. From there Felton went on to hit three clutch free throws to seal the deal for the Tar Heels.
North Carolina celebrates their first championship win since 1993. Second-year head coach and UNC alum Roy Williams finally got that precious championship that has eluded him for his entire career. With this win, his name will now be cemented along side his mentor, Dean Smith, in Tar Heel championship immortality.
This championship will be remembered for many reasons. It marked the first time in 30 years that the top two ranked teams in the country faced-off for the national title. And it capped off an NCAA tournament that will go down in history as perhaps the greatest ever, providing enough twists and turns, jubilation and heartache to last college basketball fans a lifetime. Yet at the same time, it left fans wanting just a little more and no doubt has them counting the days until Midnight Madness.