Votruba recommends 12.6% tuition increase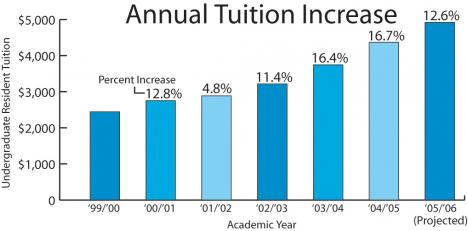 Office of Institutional Research.
Tuition may be going up – again.
Northern Kentucky University President James Votruba gave his presidential address last Wednesday and outlined the tuition recommendation to be given to the Board of Regents.
If passed by the board, the per semester hour cost will rise $23 for undergraduates.
For non-resident undergraduates, the rise per semester comes to $276, making the semester cost for a full-time, non-resident student $2,460, as opposed to last semester's $2,184.
But Votruba maintains that NKU is still a cost-effective university and said he expects the tuition increase to be in the single digits next year.
In part, the tuition rise can be attributed to the new student union, which accounts for $60 of the total raise. 'Academic Quality' is another reason for the tuition rise, accounting for $120 of the total semester tuition raise, according to Votruba's presentation.
Student fees also come into account, although they are no longer separated from the tuition. Three years ago NKU began using a process called bundling, which ties the student fees and tuition together.
Many universities do not bundle their student fees, which means though they may advertise a semester rate of $3,000, students may be paying more because of the unadvertised fees. During registration a student will get hundreds to thousands of dollars tacked on to their tuition in the form of fees for anything from athletics to labs.
"Most universities are loading up on fees," Votruba said. "If you're in biology, you get a fee. If you're in education you get a fee."
NKU has bundled the student fees in with tuition so that students have a better understanding of what they are paying. Aside from the parking pass, there are no separate fee charges when registering.
"When you're comparing tuition rates between NKU and other schools you have to know whether you're comparing apples and apples or apples and applesauce," said Chris Cole, NKU spokesman.
The rest of the tuition hike, according to Cole, comes from increased operating expenses. "Every year it costs more to keep a light on than the year before," he said. Cole also cited the rise in gas prices and the "cost to educate a student," referring to the dollar amount that is expended by the university to educate one student. "As the cost goes up, we don't want to put all that on students," Cole said.
Student Government Association Senator Michael Tobergta is concerned about the proposed tuition hike. "I didn't really want it to go that high. It's coming out of students' pockets," he said. "We've already seen students that aren't here this year because of the increase last year. What's going to happen next year? This tuition certainly isn't as bad as the last two years, but it will still hurt students."
Sophomore finance major Princess Hayes feels like she's getting her money's worth at NKU, but doesn't agree that the tuition should have been raised. "It's a public institution, and government funded. I'm not seeing any changes. It would be different if I saw some changes," she said. "That's my money."
Freshman criminal justice major Arthur Nelson feels that NKU offers a wide array of classes and good professors for the money that he pays, but wishes that the tuition didn't have to go up. "I'd rather it not increase," he said. "But if it has to, it has to."