Reds look for a big season in 2005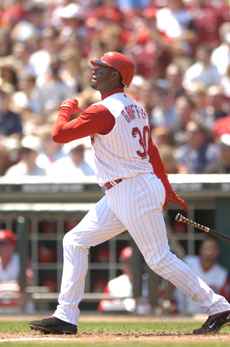 Cincinnati Reds
The 2005 Cincinnati Reds are at a crossroads. After years of "rebuilding" for the future, the Reds made many off-season moves in an attempt to be competitive now.
With the departure of long-time shortstop and franchise cornerstone Barry Larkin, the Reds' roster is now a blend of young, promising prospects and veteran role players hoping to find the right formula for success this season.
Questions about the front office's dedication to winning were answered this winter when GM Dan O'Brien went out and made many acquisitions throughout December and January. The most notable free agent signing occurred on Dec. 27 with the signing of Eric Milton to a three-year, $25.5 million deal. Milton, who spent last season with the Phillies, will step in right away as one of the Reds' top starters.
Also signed this winter was former Anaheim Angel Ramon Ortiz. Ortiz, who was relatively successful in Anaheim, averaged 15 wins between 2001 and 2003. Returning to the Reds' starting rotation will be Paul Wilson, who was awarded with a two-year $8.2 million contract during the off-season. Wilson was the most consistent starter from last year's team winning 11 games despite having a 5.23 ERA. The fourth and fifth starting positions will be filled by committee with guys like Aaron Harang, Luke Hudson, Brandon Claussen and Josh Hancock.
The bullpen for the Reds was an area of great emphasis during the off-season. Closer Danny Graves has been the only constant of the past several years but may now get some help from the signings of free agents Ben Weber, David Weathers and Kent Mercker. Weathers and Mercker return to the Reds after brief stints in the past, and all three men are in their mid-thirties. Graves, who had a career-best 41 saves last year, appeared to lose steam towards the end of the season and is hoping the new acquisitions will be able to provide more depth in the bullpen.
On the offensive side of the ball, the Reds possess possibly one of the most potent offenses in the National League. Perhaps the greatest challenge for manager Dave Miley this season will be making sure everyone stays happy with their amount of playing time and at-bats.
The infield will have a few new faces this season with veteran free agent signee Joe Randa taking over at third base. Randa, who has spent the last six seasons with the Kansas City Royals, provides more stability to a position that has lacked an everyday starter since Aaron Boone. Randa's signing also puts an end to an experiment that was started this winter in trying to convert outfielder Austin Kearns into an everyday third baseman.
At shortstop, the Reds will most likely rotate between the up-and-coming Felipe Lopez and newly acquired free agent Rich Aurilia. Aurilia, who was an all-star in 2001 with the San Francisco Giants, has struggled since and is recovering from a hand injury that limited his production last season. D'Angelo Jimenez will start at second base and has been one the most consistent hitters in the Reds' lineup over the past year and a half.
Sean Casey returns at first base and is coming off his best season in five years when he batted .324, with 24 home runs and 99 RBI's. Finally, look for Jason LaRue behind the plate as catcher. LaRue, who signed a one-year, $3 million contract over the off-season, has greatly improved his offensive production in each of the past six seasons.
The Reds also pose four quality outfielders this season, but unfortunately, there are only three outfield positions that can be filled at one time. Adam Dunn will start at left field, coming back after setting career highs in home runs (46) and RBI's (102), but also last season set a new major league record of 195 strikeouts. Kearns will start at right field and will be looking to play his first complete season in three years. Kearns, who is a very capable hitter when fully healthy, only has room to improve at the young age of 24.
The biggest question in the outfield, and possibly the entire season, revolves around the health of centerfielder Ken Griffey Jr. Griffey, who is returning after season-ending surgery to repair a torn right hamstring, has only played in 206 of a possible 486 games over the last three seasons. The odd man out in terms of playing time this season is Wily Mo Pena. Pena, who flourished last season after Griffey's injury, hit 26 home runs and gained instant credibility as a player that can impact a game with one swing of the bat.
For the Reds to be successful this season, they must be able to remain healthy all year long. Playing in one of the most competitive divisions in all of baseball, there is simply no room for error in getting off to a slow start. Last year, the Reds were in first place in the division going into the summer months, but their lack of pitching depth caught up with them and they finished in fourth place.
This season with a little more pitching depth and a decent blend of young players and veterans, the Reds are poised to make a run at a wild card birth and their first winning season in five years.