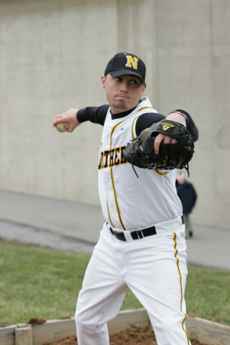 Blue
In this week's Hot Seat, John interviews pitcher Shane Gordon. He is a senior on this year's baseball team.
John Rasp: Which Northern Kentucky University pitcher could you strike out? Shane Gordon: Definitely (Justin) Seiter because he swings for the fences. Coach Asalon let me and Seiter take BP (batting practice) the other day in California, and he just drops his back shoulder and swings for the fences every time. I would probably just throw him a couple changeups and strike him out.
JR: Who would you say is the best hitting pitcher? SG: It's probably a tossup between me and Seiter. I played shortstop here my freshman year. I'd probably go with me, because I'm more a contact hitter.
JR: Which freshman do you give the hardest time? SG: If you are talking about the pitchers, definitely Kenny (Barnett). He's from Trinity and I went to Trinity, so I pick on him the most by far. Either him or Jon Back.
JR: Who listens to the weirdest pregame music? SG: Probably Joe Kendall. He always has his headphones on everywhere we go. On the road, he'll have his headphones on while we are eating dinner. He listens to evil music, I don't know what it is.
JR: Which hitter in the lineup would you have a better chance at hitting a home run than him? SG: I would probably say (Jason) Nintrup, the ninja. I haven't seen much power from him.
JR: Who would you say is the best dancer on the team? SG: Definitely Jim Volpe. He's always dancing in the dugout and whenever we're on the road. He likes Usher and tries to dance like him all of the time.
JR: Do you have any superstitions? SG: I've been wearing the same Trinity undershirt since I've been a freshman.
JR: Coming from the Shamrocks from high school, and wearing the No. 13, do you think that was jinxing your freshman year? SG: Well, I had never been any other number besides 11 in my whole life, and I came here and they were going to give me No. 11 but it was retired.