The Mars Volta puts out 'sexy' CD
Chad Snowden
March 22, 2005
Filed under News
Hang on for a minute...we're trying to find some more stories you might like.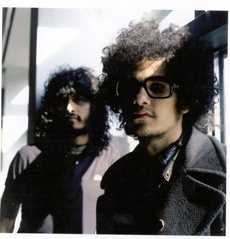 Universal Music
If art is the personal journal of the artist, then interpretation is where translation meets no boundaries. For The Mars Volta this translator is rock music. It is their vessel for which they transfuse elements of jazz, salsa, classical and experimental.
Frances The Mute, the latest offering from Omar Rodriguez-Lopez Cedric Bixler Zavala (the core of The Mars Volta) is every bit of amazing. It's one of those albums that comes along very rarely but has the power to last decades. From beginning to end, this epic 77-minute composition is as lively, erratic and soulful as Led Zeppelin, sexy and moving as Santana and precise and calculated as Yes.
All of this with the underlying chaos of a punk ethic makes Frances The Mute an amalgamate of circulating guitars and ghostly whales. You just might dance a bit.
"Cygnus…Vismund Cygnus," the beginning of this musical labyrinth, is coated with eccentric timings, punctuated by the tightest rhythm section in music today. Valleys and mountains of audible landscapes securing the listener's ear pulsate through this living work of art. This is surrounded with the war cries of Cedric Bixler, gliding their way over the topography of the movements.
The sound of cars and ambient chatter introduce the grace of "The Widow." This track is the current single and only radio-appropriate piece of the puzzle. It contains elements scattered about this opus of an album, an important translator to those unfamiliar with the brilliance of the entire Mars Volta collective.
The album's final sliver is a 32-minute work that spans seven tracks. "Cassandra Gemini," also containing sub chapters, is a bit hard to bite into but fulfilling. It's hard to wrap your head around such a lengthy song, but before you know it, it is your favorite movement of this orchestral performance by some of independent rock's most important artists.
On this track, the direction of music is completely unheard of but completely palpable. With so many movements, it's hardly a chore to be attentive to the seductive wail of voice, guitar, keyboards, full orchestra and typically some of the most difficult rhythms pulled off seamlessly.
To finish this musical story is the forthcoming single, "Frances The Mute." But unless you own a record player, it will be hard to hear the not-included title track to what I believe will be an important record for years to come and a gage for what music should be intense, calm, chaotic, talented. However you take it, it's yours to translate.
Frances The Mute takes on many forms, all real and breathing. The genius fusion of all that has been vital to the upper most influential of musicians is perfectly injected into the vein of the body that is the Mars Volta. A real black sheep in today's cookie-cutter band factories sponsored by the "big five" record companies.
All together Frances The Mute is a reminder of how music used to be and what music can be.