Seven bands to battle in third-annual event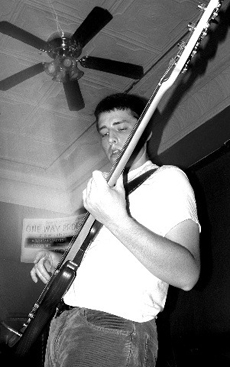 Adam Rosing
Seven bands were selected to perform at the Activities Programming Board's third-annual Battle of the Bands, to be held April 16.
One Breath Below, Kicks of Passion, Alispyo, Last in Line, In Rage, Second Time and The Frankel Project will compete in this year's event.
"We've put a lot of energy and money into it," said Sheena Dunn, director of music programming for APB. "We paid for sound and lighting and staging."
Norust, the winner of last year's competition, will open the event.
Because APB opened the auditions to bands outside of the university, not all of the band's members are from Northern Kentucky University. They will battle on two stages in Regents Hall, while one band is performing on one stage, another band will set up their equipment on the other.
At the end of night, the audience will vote on their favorite band. The band with the most votes will win $500.
Kicks of Passion will be performing for the first time at the battle. Matt Baker, the singer for the disco/rock band admitted, "It's going to be nerve wrecking since it's our first show, but it should be fun."
Kicks of Passion also features NKU students Tom Ryan and Nick Wagner who play in the band Abigail.
Two bands, One Breath Below, who placed third last year, and Alispyo, are competing in the battle again.
One Breath Below has performed in several local venues and is finishing a new album, according to their Web site.
Alispyo, a post-hardcore band, plans to spread fliers throughout the campus for this year's battle. "I don't care if we win. I just want to play for a lot of people," said Alispyo bassist Lucas Cooper.
Alispyo drummer Andy Acheson and lead guitarist Ben Rogers are also NKU students.
Although this year's bands plan to promote the show throughout the area, Norust proved last year that with or without promotion, anyone could win.
"(Winning) was a bit of a surprise," said Travis Talbert, Norust's guitarist. "We only told two people and ended up winning."
Talbert said competition between the bands for this year's event would be close.
"No one has an overwhelming chance to blow (another band) out of the water," he said.
With the amount of promotion, Dunn, along with members of the bands, hope the turnout will be higher than last year's event
"There's 15,000 people that go to school there. It should be easy to pull a thousand people to this show…if people actually try," Cooper said.
Battle of the bands will be in Regents Hall, Monday April 16 at 8:30 p.m.
Prior to the battle, tickets will be on sale for $5 in the UC lobby during the day, and in Norse Commons from 5 to 7:30 p.m.