NCAA Tournament provides surprises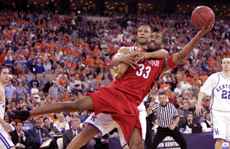 KRT Campus
The first four days of the 2005 NCAA Basketball Tournament provided many upsets, last-second shots and one monumental battle that had all tri-state fans tuned in.
This year's tournament has the makings of one of the greatest in history with many top seeds being eliminated, such as Connecticut, Kansas, Syracuse, Gonzaga and Wake Forest. In fact, Arizona is the only 3-seed to make it to the Sweet 16, and other than North Carolina, the other three number-one seeds have been tested in the first two rounds.
Perhaps the most memorable game of the first two rounds was the March 19 double-overtime thriller between Wake Forest and Cinderella-story West Virginia. Many predicted Wake Forest to be in the Final Four, but that scenario was wiped out with clutch three-point shooting by West Virginia.
Other sleeper teams making it to the Sweet 16 are Wisconsin-Milwaukee, North Carolina State and Texas Tech, led by legendary coach Bob Knight. Knight makes his first trip back to the third round since 1994, when he coached the Indiana Hoosiers.
Also taking place March 19 was perhaps the most anticipated game in our area's history when the University of Kentucky took on the University of Cincinnati in Indianapolis. Bragging rights were definitely on the line in this game as the Wildcats jumped to an early 11-0 lead, only to see UC come back to take a two-point halftime lead.
The second half saw Kentucky regain their shooting touch, with timely shots from Patrick Sparks and Rajon Rondo. UK center Randolph Morris also played well as Kentucky went on to win 69-60 in a hard-fought game.
Kentucky will next play Utah, who defeated Oklahoma on March 19. The Utes feature player of the year candidate Andrew Bogut, who at 7 feet tall, not only poses as an inside threat, but also displays outstanding passing skills.
The Tournament will resume March 24 and will run through next weekend, where the Elite Eight teams will prevail to the next round.