Band finds 'simpler way of life'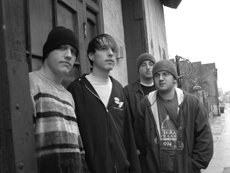 Moving East
As 2004 came to a close, four friends decided they wanted to start something new with three guitars, a mandolin and a banjo. They wanted to write songs about Buddhism and the meaning of life.
From just south of Florence, Ben Smith, Ian Bolender, Adam Brown and Mike Marquette create the music for Moving East.
The new band debuted their sound at Cincy Punk Fest III in January. They also took the opportunity to play one of the final shows at Radiodown, a rock 'n' roll bar in Covington. Now the band is preparing for an upcoming concert, April 6, at the Northside Tavern in Cincinnati.
"Some kid once told us we sound like the music from JC Penney," Smith said.
Although their music isn't heard at JC Penny, according to their Web site, their music is similar to "artists such as Glen Phillips, Nickel Creek and Nick Drake with vocal harmonies comparable to Guster."
The guys not only play together in the band but also spend a lot of time discussing philosophy, religion and other politics.
"That's how we came up with our name, because we believe that Eastern culture is a simpler way of life," said Bolender, Moving East's guitarist.
The study of Eastern philosophy also helps Smith create the bands lyrics.
Of the four band members, three attend Northern Kentucky University. Bolender is a junior marketing major whereas Smith and Brown are both undeclared.
Aside from school and the band, Bolender teaches guitar lessons at Wert Music, a guitar school in Erlanger, while Smith and Brown teach the guitar to students at Erpenbeck Elementary in Florence.
The members of the band also continually study music theory and learn different skills from each other. Other than friendship, these studies are what link the acoustic quartet.
Although Moving East doesn't have a drummer they have expressed interest in finding one eventually. Until then, the beat will continue to be kept by a member slapping his hand against a guitar.
"It's a matter of finding someone who's good enough," Smith said. "Our main focus on a musician is the ego."
Moving East currently records in Smith's home with Bolender producing the music.
They are recording songs with the intention of creating demos they can submit to festivals and showcases in the summer.
The band plans to perform at the Midpoint Music Festival, an annual event in Cincinnati, Ohio, in late September.
The band's primary goal is to win a Cincinnati Entertainment Award for new artist of the year.
For more information, music , pictures and journal updates on Moving East, visit www.movingeast.net or www.myspace.com/movingeast.