Youth exposed to college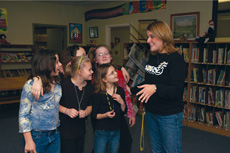 Joe Ruh
In what organizers are calling a resounding success, dozens of Northern Kentucky University faculty, staff and students traveled to Bracken County on Feb. 25, performing for and educating about 200 elementary and middle school students in the first annual Spirit Day celebration.
Taylor Elementary and Bracken County Middle School students experienced a full day of events designed to teach children about the arts, humanities and higher education. A wide variety of NKU faculty and student-led sessions on math, literacy, music, dance, physical education and art were sandwiched between two NKU dance and musical theater performances.
Barley Garza-Mappes, associate director of NKU's Community Connections and co-founder of Spirit Day, said the event was an opportunity for young children to keep up with core academic concepts. "Many students in the outlying counties have little or no exposure to arts, humanities, college or its academic components outside of their normal classroom experience," she said.
She added that while many rural elementary and middle schools do not emphasize these areas, young students are expected to be familiar with them for standardized tests, usually given in April.
"We attempted to expose the students to arts, humanities, other academic components and the basic idea of available college opportunities," Garza-Mappes said. "We planned this exposure in a fun, interactive format that met Kentucky core curriculum."
"The idea was to encourage students in elementary and middle grades to begin thinking about college earlier in their academic careers, rather than wait until they reach high school," said Linda Nesbitt, NKU's director of Community Connections. "At the same time, we want to introduce them to NKU and all that we have to offer," she added.
The day kicked off as all 200 Taylor students gathered to watch NKU's Dance Troupe in a 25-minute series of performances that ranged from salsa, tap and jazz dancing to ballet. Afterwards, the Taylor students separated into individual 'breakout sessions' where they took part in a range of interactive classes.
A session called "Enter the Dragon Chinese New Year," taught by NKU art professor Lisa Jameson along with four NKU students, showed the children basic artistic concepts through the design and construction of colorful dragons.
In a class called "Hip Hop with NKU Dance Troupe," the Taylor kids learned hip hop steps and learned a short dance combination to the Britney Spears' song "In the Zone."
NKU's Director of Choral Studies, Dr. Randall Pennington, along with 11 NKU Jazz Ensemble students, led children through demonstrations on vocal ranges, microphone techniques and vocal percussion for the day's music class.
After the last session of the day, NKU's Associate Director of Admissions Melissa Gorbandt and 11 NKU students spoke about being a college student. The children were told what kinds of classes university students take, the range of NKU organizations and sports and some of the general culture of college life.
The day's grand finale was the Musical Theater Troupe performing a portion of "Once Upon an Island," a Caribbean-themed production featuring music, acting and dance.
According to Garza-Mappes, Spirit Day was a great learning experience for participating NKU students. "They are doing what they love best and receiving great feedback in the process," she said.