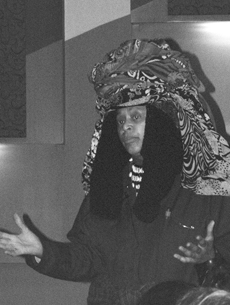 Nicole Jones
With a multi-colored headdress towering two feet over her head, artist Chakaia Booker discussed her daily routine. "I get up every morning and sculpt myself, then continue to work," Booker said.
As Booker discussed her life and artwork with Northern Kentucky University students on Feb. 23 in the BEP auditorium, attendants couldn't help but gaze at the intricately placed cloths covering her head. It was as if one of her sculptures had come to life.
Booker gained fame by transforming discarded materials, most notably tires, into artwork. Everything from goat bones and decaying metal comprised the sculptures skillfully crafted by the famed artist.
Booker, who was influenced by Romare Bearden, Jacob Lawrence and Mark di Suvero, has received numerous awards for her artwork.
One of her pieces, "Repugnant Rapunzel," was exhibited at the White House in 1995 and 1996.
Living in New York City, Booker has made a career out of transforming the old into new again. "I would wait 'till car fires subsided, and then take the material back to my studio," Booker said.
In order to attain materials, she desired a simple walk through New York – which posed more difficult than she first thought. Booker had, and has, no car; therefore she would spend hours searching for materials by foot.
The eccentric artist would then spend another four hours strapping the discarded material to her body, before having to walk back to her studio to create her vision of art.
Working out of a studio, Booker many times has materials stacked wall-to-wall. "Sometimes I can barely make it through the door into my studio," she said.
Booker's artistic talents were cultivated at a young age. She remembers watching her cousin paint the walls of her grandmother's house, and the beauty of it transfixed her.
Before using discarded materials as her medium Booker used her artistic talents in other endeavors.
She loved to cook and sew. A smile began to form on her face as Booker said, "I religiously sewed."
Booker graduated with a sociology degree from Rutgers University, all while exploring her artistic side. Later, Booker earned a Master's in Fine Arts from the City College of New York.
As Booker weaved the tale of her life, pictures of her sculptures were projected upon a giant white screen. The pictures expose how her artwork varies from piece to piece.
"My work is who I am at that moment," Booker said. "However, who I am is ever-changing, and so is my work."
There is a definite challenge to working with discarded materials. Tires and metal do not offer some of the benefits of paint and a white canvas. In painting the brush moves around with great ease, creating the image to be expressed. Tires and metals are not quite as flexible, Booker said.
Booker walked closer to the audience as she discussed the materials that bring her artwork to life.
"In working with metals it is imperative to be flexible with your materials," she said.
While her canvas may not be traditional, Booker has gained fame from the raw emotion that exudes from her work.
"I believe every artist has a palate," said Booker. "My palate is the texture of my materials."