Tribble back from Iraq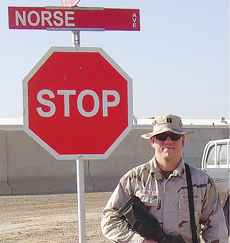 NKU Media Relations
Capt. Stephen Tribble, Northern Kentucky University's director of campus recreation, returned to the United States March 1 after reporting for duty in the U.S. Army Reserve Jan. 19, 2004.
Tribble arrived in Iraq in March 2004, where he was deployed with Facility Engineer Team #9 (416th Engineer Command) at Camp Taji. The team's main duties included the "reconstruction, renovation, modernization and maintenance of this former Iraqi air base," Tribble said in a message he sent to the NKU community in November. Tribble was personally responsible for designing, obtaining and installing signs for the camp, and made sure that NKU was represented when it was decided that the streets would be named after school mascots.
"I felt privileged to name a street after the Norse," Tribble said. "I hope the rest of the NKU community feels as honored as I do with this small recognition of an institution that means so much to so many."
Thanks to Tribble's gesture, Iraq now has a Norse Avenue.
"This was a wonderful opportunity for Steve and NKU," said Sue Roth, associate director of campus recreation and acting director during Tribble's extended leave of absence. "Knowing Steve for the year before he was deployed, it is no surprise that he looks for every opportunity to promote NKU and its students."
Tribble is scheduled to arrive home from St. Louis later this week. He is not expected back to work at NKU until April 4, according to Roth.
Tribble began as the director of campus recreation at NKU on July 15, 2002. He has been enlisted in the U.S. Army Reserve for approximately 15 years.