Student charged with rape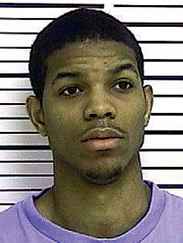 A 20-year-old, male Northern Kentucky University student was charged and arrested Feb. 24, with raping a 19-year-old female acquaintance, also an NKU student, in his dorm room Feb. 23, according to a police report.
Michael Dwayne Powell, a resident of Norse Hall, was charged with first-degree rape and transported to the Campbell County jail by an NKU police officer.
The woman said she and Powell exchanged phone numbers Feb. 23, and later that day he invited her to his dorm room. According to the police report, Powell pinned the woman to his bed and raped her after she repeatedly told him to stop.
The woman said she returned to her dorm room and had a resident assistant call the NKU Police Department. Powell was arrested at 2:30 a.m., according to the police report.
Powell was released from jail March 1 after his bail was posted.
After being reached by phone later that day, Powell told The Northerner he is going through tough times and declined to answer questions.
Powell has a preliminary hearing March 10, according to Campbell County Commonwealth Attorney Jack Porter.