Hunger campaign nears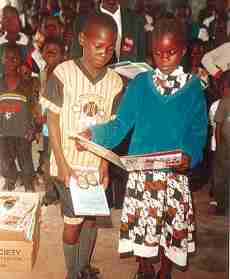 Association of African Charities
The Association of African Charities is promoting its third 30-hour fast to raise money and awareness for the children of Africa orphaned by famine and drought.
"We want people to know anyone can get involved," said Association of African Charities President Selina Oladapo. "You need not be familiar with the situation in Africa; we are raising global awareness, informing people there are millions of hungry people throughout the world."
Through fasting for 30 hours, Oladapo hopes people can better understand what it is like to be hungry, what many less-fortunate people throughout the world must feel on a daily basis.
The goal of this year's hunger campaign is to raise money for three orphanages in Africa: the Onyassi Orphanage in Cape Coast, Ghana; the Abebech Gobena Orphanage and School in Addis Ababa, Ethiopia; and Kinbutdu Trust in Gondor, Ethiopia.
"The money raised will be used to provide the children of these orphanages with food and water," said Association of African Charities Vice President of Public Relations Corey Catton.
The fast, to be held in the UC Student Lounge, kicks off at 1 p.m. on March 18 and lasts until 7 p.m. March 19. Drinks will be provided for students participating in the fast.
Donation forms will be available at the UC Student Lounge throughout the fast.
Following the fast will be a dinner for all involved. "Everyone has a great time following the fast," said Oladapo. "The food tastes great, not only because of your hunger, but because of the feeling that you earned this food by helping people."