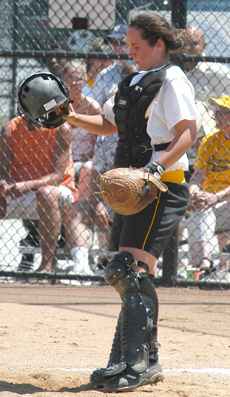 Blue
In this week's issue, John interviews Megan Owens. Megan is the catcher for this year's Norse softball team.
John Rasp: Which NKU softball player would most probably take you out at the plate? Megan Owens: Probably Kara (Lorenz).
JR: If you were to pitch in a game, which NKU player could you strikeout? MO: I would probably strikeout Krystal (Lewallen). I don't know if she would be able to hit me.
JR: Who's the biggest NKU rival? MO: I would probably say Lewis because we played them like six times last year.
JR: Do you ever talk to the batters when you are behind the plate? MO: I talk loud to the pitchers and it kind of gets on the batters nerves. JR: Do you ever talk to the umpires? MO: Sometimes they miss a lot of pitches, so I have to let them know that the pitch was supposed to move across the plate.
JR: Who would you say has the best nickname on the team? MO: Bob (Emily Breitholle).
JR: If you weren't playing catcher, which position would you want to play? MO: I used to be an infielder, but now that I've caught I don't think I could play infield anymore because I would probably try to block it instead of field it.
JR: Which player usually gets into the most trouble in practice? MO: I think Bob (Emily Breitholle) because when she is in a good mood she will not stop talking. She even will say that she's going to get in trouble.
JR: Which NKU pitcher could you take yard? MO: Bob (Emily Breitholle). And she knows it.
JR: Which NKU player would most likely to get tossed from a game? MO: Sarah Newland.
JR: What team do you most want to beat this year? MO: I would say Kennesaw or Shippensburg because they are both ranked ahead of us nationally. We were supposed to play Kennesaw a couple years ago but it got rained out. We beat Shippensburg last year in Florida, but it was a really close game.