Concert series aims to diversify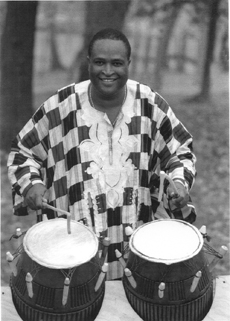 NKU Dept. of Music
Northern Kentucky University Department of Music will welcome three ethnic musical acts to perform at their upcoming concert series.
The inaugural Multicultural Fine Arts Concert Series will feature the African drumming and dance ensemble Azaguno in Greaves Concert Hall Wednesday, Feb. 25.
"We're doing this to internationalize and diversify this campus," said Kurt Sander, chairperson of the Department of Music.
"Greaves is a very live hall. It projects sound very well and is an especially good hall for dance. Azaguno is kind of like an African version of Stomp," Sander said. "It will look and sound great there."
Azaguno will start off the series with their ensemble of drummers and dancers. Paschal Yao Younge, who is currently a faculty member at both West Virginia University and the University of Ghana, leads the group, which is composed of WVU alumni and student musicians.
The ensemble uses drum, voice, dance, and other visual art forms to represent the African experience in world history.
The second group, Brave Old World, performs March 26 at 8 p.m., and will feature Eastern-European derived klezmer music. Klezmer music originated in the villages and ghettos of Eastern Europe, and features Jewish singers that perform at festive events such as weddings.
As traditional as the group sounds they have "the finesse of classical music and the virility of jazz," according to their Web site.
The final act, tabla player Sandip Burman, will perform April 16 at 7:30 p.m. His accompanied Indian drum performance is both auditory and visual. "His rhythmic elements are quite complex, and he gets a lot of unique sounds out of the drum," Sander said.
"By bringing Azaguno, Brave Old World and Sandip Burman to NKU, we are showing the community we are committed to promoting multiculturalism on campus and beyond," said Nicole Hamilton, coordinator of NKU's Department of Music.
"This concert series is unique and ambitious, and it's proof that the music department is establishing itself as an integral part of the local arts community. Not only are the concerts educational, they are also going to be very exciting, fun shows."
Tickets for the events can be purchased at the NKU Theatre Box Office. Ticket packages that include tickets for all three of the concerts of the inaugural season, will be sold for $30 to the general public, $20 to senior citizens and NKU students and faculty.
Individual tickets are $7 to $10 for Azaguno, $10 to $15 for Brave Old World and $7 to $10 for Sandip Burman.