Norse king, queen crowned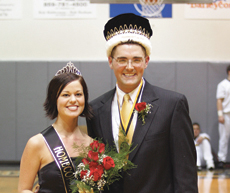 Blue
Adam Zeigler and Abby Bentley have made many accomplishments during their four years at Northern Kentucky University.
Now they can add homecoming royalty to their lists of achievements.
Zeigler and Bentley were named homecoming king and queen, respectively, at a ceremony held Saturday, Feb. 12 during half-time of the men's basketball game.
Zeigler and Bentley have many traits that make them fit for nobility.
Zeigler, a senior biology major, ran 20 miles across Mason County last November and raised more than $7,500 for the Cystic Fibrosis Foundation.
He is the pre-med chair of the Health Professions Club and works part-time at the Campus Recreation Center and Kroger pharmacy.
Zeigler volunteers for the United Way's Big Brother program for which he tutors and plays with children at Highland Heights Elementary. He also volunteers at Children's Hospital where he plays with children in intensive care and goes around to the rooms of children in critical condition to entertain and talk with them and their families.
In addition to all of his accomplishments, Zeigler is also preparing for the MCAT in April; he plans to go to medical school after he graduates in May.
Zeigler called his coronation "overwhelming."
"It's an honor," he said. "The court is full of so many outstanding guys. Any one of those 11 guys could've been picked and everybody would've been happy."
But next to every great king is a great queen.
Bentley, a senior management major, was involved with the Student Government Association for which she served as a senator for three semesters and vice president of public relations for a year. Bentley said she is very proud of her involvement in SGA. A lot of the initiatives that came up when she served, such as allocating money to renovate the campus recreation center and trying to get a campus events arena, are "starting to unfold," she said.
Bentley also serves as the president of Delta Zeta sorority and is a member of NKU Project Recruit, for which she helps recruit potential NKU students.
Bentley has also worked at Fifth Third Bank for almost two years.
Bentley said her accomplishments at NKU have changed her life. "I love NKU," she said, "and I love the way that it shaped me into the woman and into the leader I am today."