Ice hockey club team forms on campus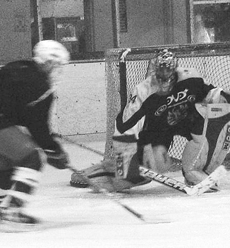 NKU Ice Hockey Club Team
After several attempts at forming a team, Northern Kentucky University now has its own ice hockey club team in the American Collegiate Hockey Association.
The club held its first practice Feb. 1 at the Northern Kentucky Ice Center in Crescent Springs. The team will practice on Monday nights with the first scrimmage scheduled for Feb. 25 against Eastern Kentucky University in Lexington. They also hope to scrimmage the University of Cincinnati ice hockey team in March.
"Hockey – if it really gets going – can be a great money maker," said junior Scott Hicks, NKU hockey operations vice president.
"The school can also benefit by making money from the team. It's an expensive sport to run, but in the end we can do pretty well and make the pluses outweigh the minuses."
The team will start out competing in the Great Midwest Collegiate Hockey Conference at the Division III level. Opponents will include Wright State University, Middle Tennessee State University, Butler University, University of Louisville, University of Southern Indiana, Indiana University-Purdue University Indianapolis and Lincoln Land Community College.
Andy Pokupec will be the team's head coach. Pokupec is also the head coach for the ice hockey team at Moeller High School in Cincinnati. Mike Fairbanks will be an assistant coach for the NKU ice hockey team. Fairbanks is also a coach for a peewee hockey team called the Northern Kentucky Norsemen. Fairbanks has experience in starting ice hockey club teams. He started the club team at Eastern Illinois University when he was a student there. "You can't set wins or losses when you start up a club team like this, but I really want to make this a viable team," said Fairbanks.
The team officers were impressed with the amount of people that turned out for the first practice. They had 23 people sign up that were not officers for the team. "We have been getting good response to the fliers we had around campus. We have even had 10 high school students contact us about the ice hockey team," said NKU ice hockey president Craig Pace.
Hicks said tryouts will begin in September, and he hopes the team is able to start competing with a full game schedule by the beginning of October. The games will be on Friday or Saturday nights starting at 10:30 or 11.
Students interested in joining the club team can contact the NKU ice hockey club by e-mail at nkuhockey@yahoo.com or by phone at (859) 448-8061.