$6 million committed to events center
Gov. Ernie Fletcher expressed his continued commitment to supporting NKU in his budget.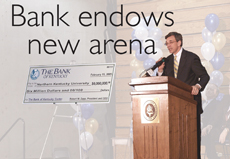 Josh Blair photographer/Mike Brennan Design Editor
Northern Kentucky University and The Bank of Kentucky announced Feb. 15 a naming rights agreement for NKU's regional events center. The Bank of Kentucky will pay $6 million (10 percent of the estimated total cost) to have its name on the center for 20 years.
Although state funding is pending for The Bank of Kentucky Center, Bob Zapp, Bank of Kentucky president and CEO, said, "This contribution that the bank is making today is given in the spirit and hope that it will be the first of many gifts that are given toward the completion of this arena."
Gov. Ernie Fletcher attended the announcement and reaffirmed his dedication to funding the center. When Fletcher visited NKU on April 6, 2004, $42 million was proposed in the budget for the arena.
"I'm going to do everything I can, and I really feel that the General Assembly is on the right path … to get a budget and to get some tax changes that will create opportunities to move Kentucky forward," Fletcher said. "And with that, I certainly will work with the General Assembly and continue to promote this project. Matter of fact, it is the only project that I mentioned in my State of the Commonwealth Address, and I mentioned that our students get their diplomas in Ohio and that it is time for that to stop."
Graduation ceremonies are one of the estimated 120 events that will be held in the center each year, although the center will not be limited to university-based events. The Bank of Kentucky Center could seat between 8,000 and 10,000 people, bringing sporting events, lectures, concerts and other occasions to NKU. Such events would benefit not only the university but the surrounding community as well.
"The Bank of Kentucky Center will be a major contributor to the region's economic growth and quality to life," said NKU President James Votruba. "It will also contribute to NKU's continuing efforts to build a truly 21st-century metropolitan university."
Votruba acknowledged Fletcher's commitment to the project, saying he, too, realizes the impact the center will have.
"Our governor has demonstrated both publicly and privately his commitment to northern Kentucky and to this university. He recognizes that in order for Kentucky to prosper, our region must continue to grow and prosper as well," Votruba said. "The governor has been a strong advocate for the special events center since his first day at the office because he sees the connection between the center and our continued regional progress."
Fletcher said he looks forward to breaking ground on this arena that will bring so much to the economy.
"It's more than just sports events; it is building the future for those children and grandchildren whose lives we want to improve," Fletcher said. "It's building the future of northern Kentucky – and not only northern Kentucky but all of Kentucky – because the economic growth here not only helps the people that are here, but it helps people all across the Commonwealth."
According to a press release, "three potential campus sites (for the center) have been identified: at the corner of University and Nunn drives; adjacent to Regents Hall on Johns Hill Road; and a less defined site on university-owned property overlooking I-275."
Fletcher's modernization plan has yet to be passed in Frankfort, and there are currently no dates set to begin construction on the center.