TANK funding among concerns addressed at forum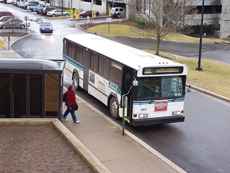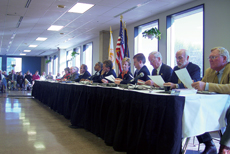 Nicole Jones
The Northern Kentucky Legislative Caucus met at NKU Feb. 5 to listen to citizens' complaints and concerns about current and future legislature for the Commonwealth.
The meeting was an open forum, allowing people to approach a microphone and state their concerns. Because of the large turnout for this event, people were only given a couple of minutes to talk in an effort to have as many people speak as possible.
The caucus, comprised of members of the House and Senate from northern Kentucky, was present so that when in Frankfort, it can present the concerns of the people.
"This is democracy in action," NKU President James Votruba said.
Many people in attendance raised concerns about the current funding crisis of the Transit Authority of Northern Kentucky, which could impact TANK's services in Campbell and Kenton counties. According to TANK's Web site, if these two counties are unable to collect taxes that are used to fund TANK, it will not be able to perform at its current capacity.
TANK affects students, faculty and staff because many people on campus rely on its transportation. Many people addressed the need for public transportation because of their concerns that Kentucky roads will eventually become overpopulated. Others claimed businesses will struggle to continue if employees can't find transportation to work, creating a domino effect which would result in some businesses closing. The overall consensus of the people was that TANK is vital to northern Kentucky.
Votruba later addressed the lack of state funding that NKU receives compared to the other regional universities and challenged the board to invest in the university.
Andy Hixson, Student Government Association president, agreed with Votruba: "There is a lot of work that needs to be done in order for NKU to gain fair and equitable funding as compared to other regional universities in the state.
"NKU also suffers a space deficit to that of the average university. To catch up, NKU would require a special events center, a new student union paid for by the state – not our student body – and six new buildings that would be similar in size to that of our Landrum building."
Ken Shields, former NKU men's basketball coach, presented his case for a new regional sports center. Alongside Shields was Stephanie Leimbach, NKU softball player. "If anyone has visited our current athletic facility, Regents Hall, you would know that NKU has the finest middle school gym in the state of Kentucky," Leimbach said. "It is an embarrassment to our programs and to the university that we are competing against other programs with sub par athletic facilities."
Another issue mentioned was the possibility of more tax on alcohol and cigarettes. The extra tax would provide more revenue to the state government, allowing it to spend wherever it sees fit. It was a split issue at the meeting; some opposed it in fear that with the added tax, people would not buy these products anymore. Some people favored the extra tax and spending the additional revenue on Kentucky education. Kentucky currently has one of the cheapest rates for tobacco in the United States.
There are 16 members, five senators and 11 state representatives on the board. Each one represents a section of northern Kentucky. To contact a member of the caucus, call 1-800-372-7181.