Rock trio influenced by Brit bands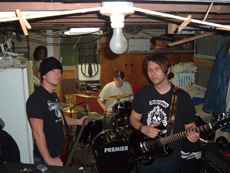 Rich Shivener
If you want to hear rock 'n' roll in its simplest and purest form, listen to The Gravity Car. Within their music lies hints of David Bowie, The Velvet Underground, and Morrissey.
The Gravity Car is a rock trio from Cincinnati that formed through friendship and the desire to play serious music.
This band is comprised of Steven Sunday, Nathan Bidwell and Jeff Snyder, a radio/television major at Northern Kentucky University.
"I feel like we are really passionate about this," Sunday, the band's guitarist, said.
Prior to The Gravity Car, he played in the band Worth, which is where he met Snyder, the bassist for The Gravity Car. After Worth separated due to artistic differences, The Gravity Car was born.
Sunday is considered the main songwriter of the band.
"The songs I write are primarily influenced by British bands," Sunday said.
Sunday said he sleeps only four hours a night to enhance his artistic creativity.
The band has been together almost a year and hasn't let anything stop them, including the loss of a drummer just a month before a crucial show.
It was at this point in the band's history Bidwell arrived. After only four practices, Bidwell was ready to perform with the band. He "just likes to play," he said.
The Gravity Car has performed at several venues around the area such as The Southgate House, The Comet and the York St. Cafe.
In the future, The Gravity Car plans to release an album and tour the country in order to promote the album and the band.