Hot Seat with Angela Healy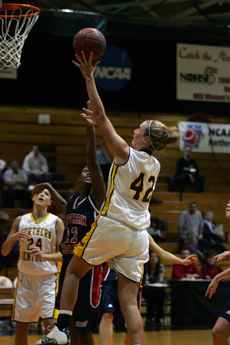 Blue
In this week's Hot Seat, John interviews women's basketball player Angela Healy. Angela is a freshman on this year's team.
John Rasp: What's the hardest thing about being a freshman basketball player? Angela Healy: Adapting from high school to college play because it's a lot different.
JR: Who would you say is the best dancer on the team? AH: I've never seen her dance, but I've heard that Betsey (Clark) can get down.
JR: What would you say was your best game this year? AH: Probably the Bellarmine game that I had 10 points. It's when I began to start scoring.
JR: What would you say is the best sports movie of all time? AH: Remember the Titans, hands down.
JR: Who has the best nickname on the team? AH: Nicole Chiodi. Her nickname is Edna. We didn't give it to her, she's had it since grade school and I can't call her anything but Edna now. Her sister gave it to her after the nickname of a nun.
JR: Which players do you think get yelled at the most by Coach Winstel? AH: That would be me and Edna (Nicole Chiodi).
JR: What is your best road trip story from this year? AH: On the Michigan trip, Jeff Iker was doing radio and didn't have dress pants. Coach made him go to the mall to get dress pants for our next game.
JR: What kind of pre-game music do you usually listen to? AH: I like Usher's Yeah and other rap.
JR: What player listens to the weirdest pre-game music? AH: My roommate (Brittany Winner) and I don't really listen to the same kind of music. She listens to music like Green Day to pump her up, and that really doesn't pump me up.
JR: What opponent are you most looking forward to playing? AH: There is a player from UMSL who is a senior who gave me a lot of cheap shots. I'm looking forward to playing her again.
JR: What would you say is the maddest your coach has been all year? AH: I would have to go with Nikki and say Kentucky Wesleyan. It was kind of scary because it was only our third college game and she was really upset.