Ducks keeping hockey alive in Cincinnati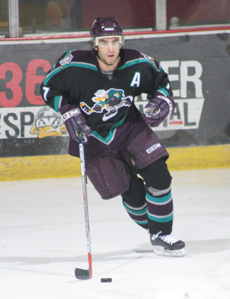 Cincinnati Mighty Ducks
While the NHL season has seemingly been lost (136 days and 1,042 total games cancelled) due to its second lockout in the last 10 years, hockey is still alive and well in Cincinnati.
The Cincinnati Mighty Ducks have been in existence for eight years now, and its success and large fan base ultimately lead to the demise of the infamous Cincinnati Cyclones of the East Coast Hockey League (ECHL). While hockey in general has been on a downward spiral since the NHL decided to expand to 30 teams, hockey still remains a passion among the people in the greater Cincinnati area as it has seen professional hockey for the past 15 years. While many NHL players turned to play for European teams during this lockout, many young NHL stars such as Ilya Bryzgalov, Joffrey Lupul, Alexei Smirnov and Stanislav Chistov have found homes on American Hockey League (AHL) teams such as the Mighty Ducks.
Currently, the Ducks are in third place in the AHL's Western Division with a record of 23-21-1-3 (Wins-Losses-Overtime losses-Shootout Losses). A dominant team at home with a record of 14-5-0-2 just recently had a franchise-record nine-game home winning streak halted. A great deal of the team's success has to do with the great fan support. The Mighty Ducks average about 5,300 fans per game, which is right around the league average in attendance.
Besides their performance on the ice, Mighty Ducks players do a great deal within the community such as Buster's Buddies where at each home game, Buster, the Mighty Ducks' official mascot, offers underprivileged children or those who have health or other problems tickets for them and their families, a special Buster's Buddies T-shirt and other team-related items. After the game, they are escorted into the Mighty Ducks' dressing room to meet members of the team and receive autographs.
It is doing things like that that people will never forget and keep them coming back, because sometimes the greediness in sports (as seen by the NHL lockout) overshadows what sports should be about – fun and giving back to the fans.
For more information, visit www.cincinnatimightyducks.com.