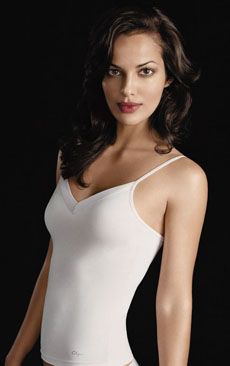 KRT
You can buy apparel that battles bugs, fights the sun's UV rays, tackles icky perspiration stains, repels water and red wine while resisting wrinkling.
There are jackets wired for your MP3 player and sporting a fabric keypad on the sleeve. There are clothes that tame the human scent of hunters.
By February, women will be able to shop for camisoles that soothe with aloe vera.
Do they work? Apparently they do.
That there is so much easy-care clothing in stores these days can be credited in part to nanotechnology, the buzzword du jour in all sorts of areas.
In the case of apparel, nanotechnology shows up in everything from outerwear to underwear and involves fiddling around with fibers and fabrics and finishes at the molecular level.
Yet that's not the only reason that so much of this stuff is out there. It is the time-crunched among us who deserve a chunk of credit as well, say those who spend big time and big money on consumer research. There is a growing demand for comfortable and stylish clothing that is also easy care.
Today's souped-up clothing is a far cry from the double-knits of the '70s and your granddaddy's perma press. They feel better. They work better. And they're all over the place.
Check the clothing at your J.C. Penney, Sears, Target, Gap, Banana Republic, Marshall Field's-you name it.
At Nordstrom, such smart stuff shows up in wide variety of apparel, from the washable wool Tecnofleece coats by Kristen Blake to the Red Label merino wool sweaters for men. In fact, the washable suede clothing line by Bernardo for men and women is so popular that the retailer regularly holds trunk shows, said Amy Lippencott, the retailer's eastern regions manager. "Bernardo is a huge portion of the sportswear and coat business in women's."
At Orvis in Chicago, Buzz Off clothing, which uses a substance from chrysanthemums to repel insects, is a hit not only with sports enthusiasts but with travelers as well.
"A lot of people going to Africa or going on expeditions to different locations around the world seem to really enjoy it," said store manager Brett James. "We have a lot of repeat customers."
James, 25, counts himself among the believers. He wore a long-sleeve T-shirt and convertible pants when he taught a fly-fishing course near Mineral Point, Wis., this past summer. "I was skeptical. But I was the only one with Buzz Off, and I had no problem with mosquitoes and no-see-ums."
Today's consumers "are busier" than ever and that is spurring demand, said Linda Kearns, spokeswoman for Invista, the Wilmington, Del.-based maker of products such as stretchy Lycra and moisture-wicking Coolmax.
"They're looking for greater convenience. And they're looking for clothes that will last longer, be more durable and stay looking good longer," she said.
Added Peter Kjome, who manages stain-battler Scotch Guard's apparel business for St. Paul-based 3M, "They want to save time washing clothes."
"If we had offered somebody in the 1950s stain-repellent and wrinkle-repellent clothes, they would have loved to have it. The needs haven't changed, but our expectations have changed as science has evolved," said Rebecca L. Davis, an associate professor in fashion and textiles program at California State University at Los Angeles. "Science has evolved to meet what the consumer has wanted."
Science and technology have made finishes on fabrics more durable and effective. They have moved Teflon from water-repellent outerwear to stain-fighting everyday clothing. They have rehabbed the double-knits and ditched the waxy feeling found in old wrinkle-resistant shirts.
Coming up with innovative textiles is one thing. Getting people to wear them is another.
That, insists Scotch Guard's Kjome, involves delivering fit, style and color-core factors, he calls them-as well as stain protection.
"We are very conscious that we are adding features on top of those core things that consumers really care about," Kjome said.