SGA committee moves to impeach Hixson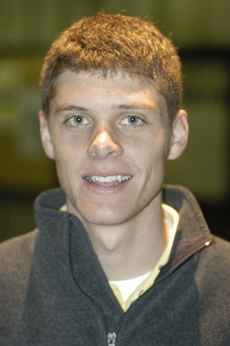 File Photo
The Student Government Association Ethics Committee requested March 5 that the SGA Judicial Council consider the impeachment of Vice President for Public Relations Andy Hixson.
The committee accused Hixson of repeatedly neglecting his duties as an executive board member by, among other things, failing to serve 10 office hours per week as required by the SGA constitution.
"It looks bad," said Vice President for Administrative Affairs Joe Myers, who also serves as chair of the ethics committee. "[These] are solid charges."
Sen. Joseph P. Mayer III presented the charges against Hixson as grounds for impeachment at the March 3 ethics committee meeting.
Mayer wrote and presented a letter that alleged Hixson has not fulfilled his 10 required hours in any given week this school year. It also said that Hixson has averaged less than one hour per week in the office this semester.
"We're trying to get senators and executive board members who are really dedicated to doing the work of the students," Mayer said. "I feel Mr. Hixson [is] not.
"He's not doing his job, and he's not benefiting the students."
The committee sent a second letter to Hixson, in which it asked for his resignation and informed him of the letter sent to the judicial council recommending his impeachment.
"We want to give Andy the opportunity to do the right thing," said Sen. James Pollitt.
The committee is also asking Hixson to repay part of the stipend he receives as an executive board member to compensate for the hours he failed to work in the office.
"Hixson has been stealing money from SGA by collecting a paycheck for doing nothing," Myers said.
"That's not SGA money, that's student money," said Sen. Mike Tobergta.
"I think it's ridiculous," Mayer said. "We're gonna sit here and we're gonna fight the tuition hike, but we're gonna give somebody free money?"
Mayer made a motion to send simultaneous letters to Hixson and the judicial council. The motion passed with five votes in favor and one abstention. Sen. Josh Ruth said he abstained due to his friendship with Hixson.
"I disagree with the policy of politics and friends mixing," Ruth said. "I don't think I could have given an impartial view to it.
"Andy is an absolutely wonderful guy, but maybe this just isn't the right place for him."
At the March 1 SGA senate meeting, the ethics committee invited Hixson to attend the March 3 meeting, but Hixson did not attend.
Mayer said he wanted Hixson to be present so they would have the chance to discuss the charges with him.
"His absence [has] forced us to assume what's going on," Mayer said.
Mayer said if Hixson would have given the committee a reason why he could not attend, that would have been acceptable and they could have waited to address the issue of his impeachment.
Hixson said he informed the ethics committee at the senate meeting that he would be unable to attend, making it very clear that he had prior engagements.
Hixson sees the charges as a personal attack, saying members who thought there was a problem could simply have talked to him personally instead of trying to impeach him.
According to Myers, Hixson's involvement has been a problem since last semester.
"We continued and continued to give him more chances," Myers said.
"It's gotten a hell of a lot worse this semester. Last semester he actually did some work, [but] this semester I haven't seen much of anything," he said.
SGA President Chris Pace agreed, saying that the executive board hoped Hixson would change from last semester.
"It's come to a point where it can no longer be tolerated, and he needs to accept responsibility for those actions," Mayer said.
Ruth believes the situation has gone on for too long.
"[This] is something that should have been nipped in the butt last semester," Ruth said.
"Just because I'm not in the office doesn't mean I'm not doing work," Hixson said. "All my duties, I can easily take care of out of the office."
Hixson said that Pace dissolved the Public Relations Committee, of which Hixson was chair, at the Feb. 18 SGA meeting.
"That took all my duties away," Hixson said.
He said that although he has fulfilled more than 10 hours per week in the past, he has not posted enough hours recently. He acknowledged that this represents a neglect of his duties to SGA and to students.
"I'm not at all arguing that," Hixson said. "[But] there are extenuating circumstances. I would like to sit down with the judicial council and hash it out."
"I haven't been in the office as much as I have prior to me opposing the constitution," Hixson said. He said he feels uncomfortable being in the SGA office because he is "ridiculed" for his views.
Hixson first took a stance against SGA's controversial proposed constitution at the Feb. 9 SGA senate meeting, where he said, "What I'm doing today is taking a stand, putting myself up for impeachment."
The senate passed the constitution on Feb. 18, and Hixson filed an appeal on the legitimacy of the document five days later with the judicial council. The council rejected Hixson's appeal on Feb. 26.
Hixson said he has decided to run for president in the upcoming SGA elections for the 2004-2005 academic year, which will take place April 14 and 15. Eric Fegan, SGA executive vice president, said he also intends to run for the office.
"It's funny – if this has been an issue since last semester – that this has come up now when I'm running for president and have appealed the constitution," Hixson said.
"Chris Pace will do whatever it takes to knock me out of the race."
Pace, Myers and Mayer assure these charges are in no way connected with his opposition of the constitution.
"It's my understanding that this investigation began well before the constitutional issue even came up this semester," Pace said.
"The timing is there, and I regret that that has happened," Mayer said.
Ruth said there is "unfortunately" no other choice at this point than to impeach Hixson, and he wishes it had not come to this.
"It's gonna come across as terrible," Ruth said. "I wish there was an easier way about it."
According to Tobergta, Hixson has problems fulfilling his duties outside of SGA.
Tobergta said he feels Hixson has been neglecting his duties to the College Republicans as well. Hixson also holds the position of vice president for public relations in the College Republicans. At the organization's March 4 meeting, Tobergta asked the executive board to ask for Hixson's resignation, and possibly to consider the idea of impeachment. A decision on the proposal was still pending at press time.
Tobergta said he feels Hixson should do the right thing and resign from both positions.
"There's other qualified people that could be doing them," Tobergta said. "Impeachment is the worst thing that could happen to you."
Hixson said he does not think SGA has accomplished much this year, and said that not much work occurs during posted office hours.
"Anyone who tells you, 'All the hours I'm posting, I'm working,' is lying," Hixson said.
"They can attack me, try to impeach me on a technicality," Hixson said. "To say everyone follows their hours as posted is ignorant."
The ethics committee is composed of Sens. Mayer, Pollitt, Ruth, Tobergta, Jennifer Wallace and Christina Smith and chaired by Myers.
*****************************************
This was a special online-edition breaking news story posted March 5, 2004.