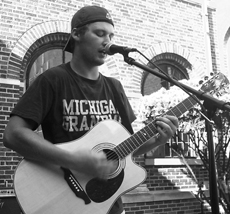 Contributed by Ben Thamann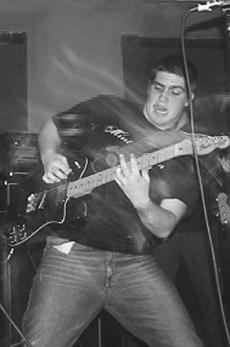 Contributed by Abigail
Seven Northern Kentucky University students will be supporting a youth organization by doing what they love best – play rock 'n' roll.
Fifteen bands will perform at the Cincypunk Fest III Jan. 21 at The Southgate House on three stages: the parlour, the ballroom and the lounge.
Out of the 15 bands playing, five have members are NKU students.
Abigail, a three-piece indie rock band consisting of Thomas Ryan, Jay Hays and Nick Wagner, is playing Cincypunk Fest for the third time.
The band Margin of Error featuring Matt Stanton, a liberal arts senior, is an old-school punk band.
This will be his second time playing Cincypunk Fest but with a new band.
Moving East, an acoustic rock quartet, features Ian Bolender, a junior marketing major.
Playing solo is Ben Thamann, a senior majoring in art education, who is an acoustic artist. This will be Thamann's third time playing Cincypunk Fest.
Jeff Snyder, a junior radio television major and the bassist for The Gravity Car, said he hopes The band will be "opened up to a crowd that we have never played for."
Two students are responsible for Cincypunk Fest. Adam Rosing, a senior journalism major, has hosted Cincypunk Fest for the past three years. He also runs cincypunk.net, a Web site that promotes and is a gathering ground for bands in Cincinnati.
Co-hosting the event with Rosing is Ian O'Hara, a sophomore publications major.
"This will be a culmination of some of the best bands in Cincinnati and northern Kentucky so there's no reason why you shouldn't be there," O'Hara said.
Cincypunk Fest will feature an eclectic mix of music including indie rock, acoustic rock, punk rock and rock 'n' roll.
Other bands performing include East Arcadia, Thistle, Junior Revolution, Earwig, Mint 6 Ten and The Culling Song. With the exception of the Columbus band Earwig, all of the bands are from Cincinnati and northern Kentucky.
Cincypunk Fest III starts at 8 p.m. and lasts until about 1:30 a.m. Admission is $6 for ages 18 and up and $5 for 21 and up.
The proceeds from the concert will be donated to Lighthouse Youth Services, which, according to their Web site, "is a comprehensive youth and family services organization that provides a wide range of programs including emergency shelter, residential treatment, foster care, juvenile corrections, transitional living services for older homeless youths, and in-home service for families in crisis."