Norse pull off close victory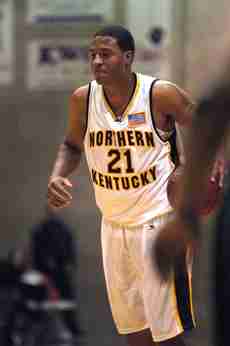 Harrison Morton had 9 points and 6 rebounds in the Norse win.
HIGHLAND HEIGHTS, Ky. – Mike Kelsey is moving up the Northern Kentucky University all-time scoring list in a hurry.
Kelsey poured in a game-high 21 points Jan. 13 as NKU held off Bellarmine, 85-79, in Regents Hall. It marked the third consecutive game Kelsey scored at least 20 points, and the senior guard moved into 13th place on the NKU all-time scoring list with 1,327 career points.
Kelsey passed both Greg Phelia and Brenden Stowers with his 21-point performance, which included four three-point field goals. He is now just three points away from passing Ryan Schrand (1,329 points) for 12th place on the NKU list.
Pat Cary finished with 17 points for NKU, which improved to 8-7 overall, 4-5 in the Great Lakes Valley Conference. The Norse held off a late Bellarmine rally and avenged an early-season 64-60 setback to the Knights.
"It was important because it was our first home game back after the break. We built a lead, and they made a charge when we didn't play very well offensively for a couple minutes," NKU head coach Dave Bezold said.
"We missed a lot of free throws at the end that would have helped hold the lead and given us a comfort level, but we held on and won, which is the most important thing."
NKU built an 80-65 lead with 5:23 remaining when Courtney Fergerson drained a three-point shot, but Bellarmine followed with a 14-1 spurt to make it a game.
After Marcus Flynn hit a short jumper to bring Bellarmine within 81-79 with 25 seconds left in the game, Kevin Reinhardt took a pass from Derek Smith and converted a layup to extend NKU's lead to 83-79. Kelsey sealed the victory for NKU by making a pair of free throws.
Reinhardt finished with 14 points, while Smith had 10 points and 10 rebounds. NKU shot 63.3 percent from the field in the first half and finished at a 49.2 percent clip.
Harrison Morton had nine points and six rebounds, while Fergerson – playing in his first game for NKU – finished with seven points, three rebounds and two assists. Sean Rowland dished out a team-leading six assists for the Norse.
Bezold was pleased with Fergerson's first outing as a member of the team.
"What he is going to do is allow us to defend a quick guard, a quick scoring guard like we saw tonight," Bezold said. "I don't know if (Matt Miller) scored with Courtney on him. I think he might have had a three when Courtney helped him when he shouldn't have, but he hasn't played in a year and a half so we'll take it."
Matt Pait led Bellarmine with 20 points, and Flynn added 17 points. Miller scored 16 points for the Knights, who used 10-for-20 shooting from three-point range to stay in the game.
Miller scored 12 points before halftime, but he was held to four points in the second half.
"I know he's pretty fast, so I didn't want to get real close to him," Fergerson said of Miller. "Coach wanted me to get real close to him, but I didn't want to get too close because I thought that would just be an easy bucket. I just wanted to stop him from getting the jump shots and try and take him out of his offense."
NKU has now beaten Bellarmine 20 times in the past 21 meetings. The Knights dropped to 7-7 overall, 2-6 in the GLVC.
The Norse will host Saint Joseph's Jan. 20 at 7:45 p.m. in Regents Hall.
*Article by Sports Information