Lady Norse overcome Bellarmine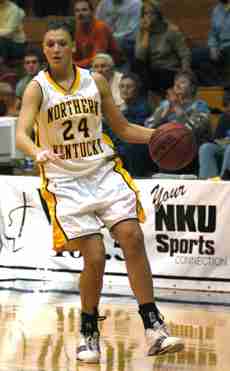 Karyn Creager?s defensive effort was a major factor in the women?s win over Bellarmine.
HIGHLAND HEIGHTS, Ky. – At the moment, no women's basketball team in the Great Lakes Valley Conference is playing better than Northern Kentucky University.
The Norse women continued their mid-season roll Jan. 13 with a 56-53 victory over 18th-ranked Bellarmine in Regents Hall. Connie Myers finished with 19 points and seven rebounds as NKU improved to 8-7 overall, 6-3 in the GLVC.
NKU has won eight of its last 10 games after starting the season 0-5. The Norse also avenged an early-season 77-66 setback to Bellarmine, which dropped to 12-3 overall, 6-2 in the GLVC.
"It was a big, huge win," said NKU head coach Nancy Winstel, who picked up her 503rd career victory. "Bellarmine is such a good team and such a fine program. They are so good offensively and to hold them to a little over 50 points, that's tremendous.
"We didn't shoot great. We didn't play great, but we did what we had to do to win the ball game. We missed some shots, but they did, too. We hung in there, and it was good enough."
Myers scored 10 points in the first half as NKU built a 30-22 lead at the break. The Norse controlled the tempo against the high-scoring Knights, who entered the game averaging nearly 80 points per contest.
NKU led by as many as 11 points in the second half and held off a late Bellarmine rally. Karmen Graham, who finished with seven points and nine rebounds, drained a three-point shot with 3:14 remaining in the game that gave NKU a 54-48 lead.
Ashley Elmore made the first of two free throws with 5.3 seconds left to bring Bellarmine within 56-53. Elmore, however, missed the second free throw and NKU ran out the clock before the Knights could foul.
Sophomore Karyn Creager helped control Bellarmine point guard Princess Wimsatt much of the game with tight defense. Earlier this season during a 77-66 loss to the Knights at Louisville, Ky., Wimsatt had scored 17 of her 23 points in the second half to spark Bellarmine's win.
It was a different story Thursday, even though the senior point guard led Bellarmine with 13 points and seven assists. The 5-foot-11 Creager, however, appeared to bother the 5-4 Wimsatt defensively with her height and long arms.
As a result, Wimsatt was unable to penetrate into the lane and never controlled the tempo as she did in the earlier game at Louisville.
"Our goal was to keep on Princess. She is one of the quickest players in the conference, and her game is driving and dishing out to the three-point shooters," Creager said. "I was playing my hardest to keep her in front and not let her penetrate in there."
Myers said containing Wimsatt was a key to the NKU victory.
"We practiced on it (stopping Wimsatt) all week," Myers said. "We had (NKU head athletic trainer) Cris Stickley imitating her, and he did a real good job. Our guards tried to stay in front of her instead of running beside her and letting her get that extra step."
Freshman center Angela Healy added 10 points off the bench for NKU, which shot 43.8 percent from the field. Another Norse freshman, guard Nicole Chiodi, scored a pair of key baskets in the first half.
Elmore scored 12 points and grabbed eight rebounds for Bellarmine, while teammate Lynne Johnson finished with 10 points and nine rebounds. The Knights, however, made just 56.3 percent of their free throws and committed 18 turnovers.
NKU now leads the all-time series with Bellarmine by a 40-23 margin.
NKU will play host to Saint Joseph's College at 5:30 p.m. Jan. 20 in Regents Hall.
*Article by Sports Information