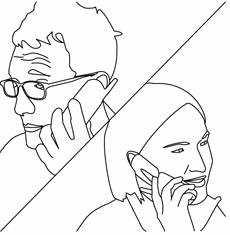 Some students may have come back to school this semester with more than they had when they left.
They could possibly have acquired new gadgets as presents, fresh school supplies or a new relationship.
Winter break may be a time for family, but it's also a time when friends get together to discuss the time they've spent apart.
Those three weeks can spark a new romance between old high school acquaintances, leaving the duo with the option of a long-distance relationship.
There are three options when dealing with a Christmas break hook-up: choose to remain faithful to one another, choose to see other people and see what happens in the summer, or just call it quits and start dating someone else.
If you choose the first option, there are many ways to make the new-found romance into a relationship.
* Be clear and up front about your expectations.
Sit down together and discuss the things you expect from your partner while the two of you are apart. Make a list of the things you want to achieve in the time you're apart and in the time you spend together.
Discuss how often you want to talk to each other, whether it is once a day or once a week. Along with this, plan a visit and decide how often you'll visit each other.
* Express yourself in different ways.
Communication is the key to any relationship, so when miles are put between a couple, it becomes even more important. There are several different ways to communicate.
The telephone is the quickest and easiest way to reach someone. Both parties should feel comfortable to call or write each other.
If you're looking for a cheaper alternative, e-mailing is a great way to let someone know that you're thinking of him or her. Keep in mind, sometimes sending handwritten letters through the mail can mean much more than typing a few sentences. It may take longer, but the effect is much greater.
One of the best ways to let someone know you care is through a care package – especially for college students. It can start with a simple box; included can be a notebook to write back and forth and little things that will remind the other person of you. Candy and other cheap gifts are great to include as well.
*