Enthusiasts make a living by playing video games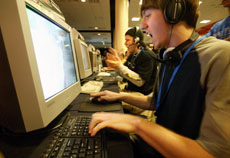 KRT Campus
The video game playing was getting out of hand. When Johnathan Wendel, then 19, was not in class or at work, he was in front of the computer. His mom didn't like it. Cut back or move out, she told him.
Goodbye, Mom.
That was before the four world championship titles, the endorsement deals, the 35-city world tour, the house he bought for himself and the $28,000 Cadillac he bought for his dad.
Wendel, aka "Fatal1ty" and now 23, is considered one of the world's best video gamers. For almost five years, he's made a living playing video games. He estimates he's earned $300,000 in that time, eradicating other virtual fighters in spaceships and demon-infested monasteries.
Video gaming is no mere pastime for Wendel and many others who aspire to his lifestyle of limos and luxury hotels.
Wendel, who lives in Overland Park, Kan., is one of many gamers, predominantly young men, hooked on the adrenaline rush of competition. A small number are like Wendel and have chosen to play video games as a career. They carry handles such as Bullseye and Rix.
Good luck recognizing them at the mall. But that's not the case at tournaments, where a guy like Wendel is an underground celebrity and where competitors seek autographs. They're also recognized by computer companies, whose product improvements aimed at gamers – better graphics, sound cards, processors – are also enjoyed by other consumers.
"It's really weird, because you visit all of these places, and people know who you are," Wendel said last month. "China, Sweden, Korea, Norway – and they've heard about me, never met me though."
Stephen Tadlock, 25, a legal assistant at an Arlington, Texas, law firm, and Nick Vosburgh, 20, a student at Tarrant County College, knew what they were facing at a recent Texas tournament.
The two cousins have competed in tournaments, and they train fiercely, for about four hours during the week and eight on the weekends in a cramped bedroom at Tadlock's house.
Neither has come close to Wendel's acclaim or winnings.
Wendel had a choice to make when his mom laid down the ultimatum. He hadn't made significant headway on the circuit.
He was a student at DeVry University in Kansas City, Mo., and working part-time at a private golf course.
He noticed the pots of cash offered in tournaments for games he played recreationally – Doom, Alien vs. Predator, Quake – and decided it was time to try his hand. But he knew he had to throw himself into it full-time.
Hello, Dad.
With a new place to live, Wendel – whose moniker goes back to his days of playing Mortal Kombat, which scrolls "FATALITY" across the screen at the end of matches – placed third in his first pro tournament, winning $4,000 and landing an all-expenses-paid trip to a competition in Sweden. He beat 12 of the world's best Quake III players, getting a $30,000 sponsorship from a now-defunct maker of computer mice.
"So I'm sitting in my kitchen at home," Wendel said, "and I'm still going to school and everything, and I'm thinking, 'Man, like, if I really want to take advantage of this, I should probably quit school.'"
Uh, goodbye, school.
Major corporations – mostly tech outfits – put up most of the money in competitive gaming. Companies like Hitachi, Intel and processor manufacturer Nvidia coordinate their efforts with the Cyberathlete Professional League. Over seven years, the Dallas-based league has awarded about $2.5 million in cash prizes at tournaments. It puts on about four major competitions a year.
The league, created by Angel Munoz, a former investment banker, has been the chief architect of competitive gaming.
Munoz, 44, said he knew the circuit would grow, but early on, it was tough to find corporate support.
Recently, though, sponsors have noticed the league, and ESPN featured Wendel in May.
"Some of these companies are looking for new ways to reach this community," Munoz said.
Wendel partners with computer hardware manufacturers. Through those deals, he's able to travel worldwide without worrying about expenses.
He inked a deal with ABIT, a motherboard manufacturer, to endorse the world's fastest pro gaming motherboard – the main circuit board in a computer.
ABIT put Wendel on a 35-city world tour; Wendel said he will be home only 60 days in 2005.
"It's totally cool," Wendel said.