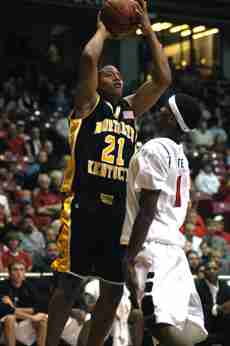 Blue
Eric Hicks paced the University of Cincinnati with a double-double, and the Bearcat defense forced 15 Northern Kentucky University turnovers to lead them to a 103-64 decision during the annual exhibition game in front of 9,950 people at Fifth Third Arena Nov. 8.
The Bearcats built an early lead that they never gave up in their first exhibition game of the season. Hicks poured in 19 first-half points en route to 29 total points.
It took NKU nearly five minutes to score their first basket that came as a Mike Kelsey three-pointer. Three-pointers were just about all NKU was able to take, especially in the first half. UC's Jason Maxiell and Eric Hicks were shutting down the inside game of the Norse, forcing them to take the long shot.
Cincinnati controlled the paint the entire game on both the offensive and defensive end. The Bearcats grabbed 17 offensive rebounds, leading to 29 second-chance points.
The Bearcats altered almost every shot the Norse put up inside the paint, blocking five shots.
NKU finished with only two players in double figures in scoring, Kelsey scored 14 and freshman Harrison Morton ended up with 21.
Pat Cary grabbed six rebounds to lead the Norse.
A bright spot in this game was the contribution the bench gave NKU. The bench produced 44 of NKU's 64 total points.
The Norse took a lot away from the experience.
"We learned you have to come to play no matter who the opponent is," coach Dave Bezold said. "I told the guys you won't surprise UC and we weren't ready to play tonight."
The only surprise NKU threw at UC was an inbounds play from underneath the basket. The called play worked three times in a row, something that is unheard of in college basketball.
NKU has never beaten the Bearcats, going winless in the last four years. Last year, NKU was up by one point at halftime before UC pulled away in the second half.