Snardon nets winning shot for Lady Norse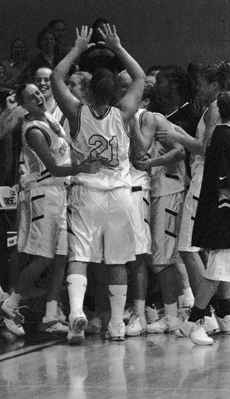 Tony Redell
In Northern Kentucky University women's basketball action Jan. 31 in Regents Hall, the Lady Norse defeated Bellarmine University with a layup by Sharell Snardon just as time expired.
The win improved the Lady Norse's record to 13-5 and 8-4 in GLVC conference play.
"Although Sharell made the last-second shot to win the game, I thought it was Nikki's pass to Connie and then Connie's pass to Sharell that really made the final play happen," said Head Coach Nancy Winstel.
"I really thought this was a great win for our team today, I'm really happy for our kids because it took all their time and effort to win this game tonight," she said.
The Norse came back from a seven-point deficit to win the game.
Sharell Snardon and Connie Myers scored 17 points each to lead the Norse.
Emily Burrows nearly completed a triple-double with 10 points, 10 assists, and 9 rebounds in the Lady Norse's winning effort.
Lindsey Neal led the Lady Knights of Bellarmine with 18 points.
The loss dropped Bellarmine's record to 12-7 and 8-5 in GLVC conference play.
Bellarmine was ranked 23rd in the nation in the recent NCAA Division II poll.
"Bellarmine is a very fine team, I was really happy for our team to hold Bellarmine to 60 points in the game because they usually score around 80 points a game," Winstel said.
"I was really impressed by the way we were able to take away Bellarmine's inside game because they are a really good post team.
"To win the Homecoming game was really special, also, because you always want to win your Homecoming game," Winstel said.
"Hopefully this will serve as a building block for the rest of the season and give us some momentum heading into the end of the regular season," she said.