Intramural sports crown champs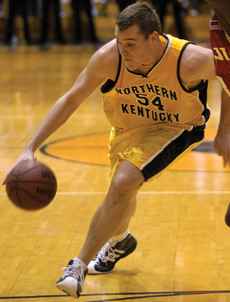 Candy Kesser
Northern Kentucky University's spring intramural basketball season came to an end March 27 with the "Night of Champions" in Regents Hall.
Winners were crowned from five different divisions throughout the day, with the grand finale Men's A-league Championship occurring at 8 p.m.
The tournament was the culmination of eight weeks of play where 51 teams in seven divisions battled for supremacy each week at the NKU's Recreational Center.
The Men's A Division was split up into eight fraternity teams and 12 independent teams.
The bracket winners faced off in Saturday's final game.
Twelve teams were entered in the Men's B Division for the season. Two additional men's teams were in the C division. There were also six alumni teams, three co-ed teams, and three women's teams.
"Men's A is a very competitive division," Assistant Director of Recreational Programs Jill Kleiser said. "Men's B is less competitive, and Men's C is just a recreational division."
The teams were seeded for the tournament according their records for the season.
"We break them down by fraternity and non-fraternity for the playoffs," Kleiser said.
According to Kleiser, this year's spring intramural turnout was at least equal to, or may even have surpassed, last year's turnout for participation.
"I believe we have more participation in spring basketball," Kleiser said.
"In the fall season, we have a 2-day [basketball] tournament and we had 17 teams entered for that. Having that [the tournament] in the fall gets us ready for this league, and also gets our officials prepared for it. So I think the active participation is up."
In Saturday's games, NPHC defeated the Bravehearts for the Men's A Independent Championship. Pike A defeated ATO A for the Men's A Fraternity Championship.
Can't Touch This won the Co-Ed Championship, defeating the Mustangs.
KB's Baller's, who defeated Theta Phi Alpha, won the women's championship.
NOK took the Men's B Championship with a win over Project Mayhem.
In the final game, for the Men's A Overall Championship, NPHC defeated ike A.
The winners of each division won t-shirts.
Teams are awarded points for their finish during basketball, which are figured into crowning overall intramural champions for independent, sorority and fraternity teams, spanning all sports.
The overall champions receive trophies at the end of the season.
Games were played at the recreational center sunday, tuesday, or wednesday during the season.
Participation in intramurals has several benefits.
"First of all, it's fun," Kleiser said. "You meet a lot of people and you get to stay in shape."