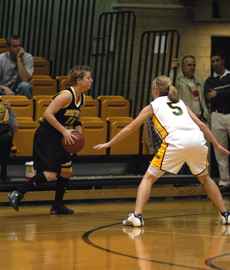 Blue
RENSSELAER, Ind. – Nikki Perkins scored 20 points and dished out three assists as Northern Kentucky University snapped a season-opening five-game losing streak with an 83-70 win over Saint Joseph's on Dec. 4.
Karyn Creager added 18 points for the Norse, who improved to 1-5 overall, 1-3 in the Great Lakes Valley Conference.
NKU trailed by 10 (29-19) late in the first half, but the Norse used a 14-4 run to forge a 33-33 tie at the break. Perkins keyed the run by scoring eight points, including two three-point baskets.
In the second half, with NKU leading 42-40, the Norse used a 3-5 run to take a 55-45 lead on a three-point basket by Betsey Clark.
NKU shot at a 57.9 clip from the floor in the final 20 minutes to defeat Saint Joseph's for the 22nd consecutive time.
Connie Myers added 17 points and 12 rebounds for NKU, which won the rebounding battle by a 39-29 margin. The Norse, who have not