Synthesizers and horns fuse punk, jazz on Cougars EP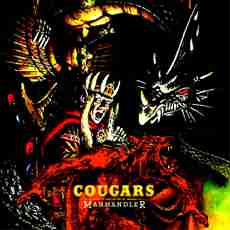 Eight-piece, Chicago rock band, Cougars, have only been around a short time, releasing their debut LP Nice, Nice in 2003. Rigorous touring and word-of-mouth spread by the sonic brilliance of Nice, Nice, helped prove Cougars point against those that think rock n' roll is dead.
Enter their newest release, Manhandler (Thick Records), to further solidify the argument. Six songs of raw intensity blanketed ever so gently by the horn section and synthesizer. Dreamy atmospheres too boisterous for sleep coupled with soulful whiskey drowned vocals lead this 20-minute masterpiece through its humorously titled tracks.
The title track surges into a beat-heavy verse before exploding into the bridge where the horns take over. Sounding less like rejects from a ska band and more like Satan's personal brass/woodwind section, the horns only help drive the dingy sound of Cougars to a jazz/punk fusion.
The drums reinforce the smoky jazz club vibe of Manhandler. In "Phil's Collins," the drums help to confuse just what the Cougars next move will be. The album's longest track goes through about four different songs within one. Instead of coming out with too much to listen to, Cougars show just how much can be done in four and a half minutes without sounding convoluted.
You would imagine with eight members that Cougars might sound like a big mess. To the contrary, Manhandler leaves listeners wondering why more bands are not trying out the band geeks they made fun of in high school.
The searing guitars of "Vegas Makes Her Fuck" introduce the EP's crown jewel with a full room of drum down a path of strange timings and on a dime stops. Cougars fill the air with wonder, ferocious riffs and, of course, trumpet and sax like the sound of a car accident where the car horns harmonize. "Cookietown" breaks down into a decidedly slower pace to bring this record to a beautiful end. Almost sounding like a song from the end of a movie, or a situation of closure.
Cougars have an amazing way of creating moods and with one last note the EP comes full circle and fades out.