Women's basketball team sees extension of losing streak at 0-4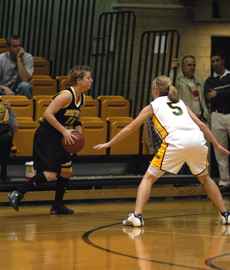 Blue
LOUISVILLE, Ky.- Princess Wimsatt scored 17 of her 23 points in the second half Nov. 28 as Bellarmine posted a 77-66 win over Northern Kentucky University in Knights Hall.
Kellie Peyton came off the bench and added 16 points as Bellarmine improved to 3-0 overall, 1-0 in the Great Lakes Valley Conference. The Lady Knights shot 61.5 percent from the field and won the rebounding battle by a 35-27 margin to hand NKU (0-4 overall, 0-2 GLVC) its fourth consecutive loss.
"Bellarmine has some very talented offensive players, and they really shot the ball well in this game," NKU head coach Nancy Winstel said.
"I thought we competed at a higher level than we have in any other game so far, and we have to keep our heads up and try to figure this out."
Karyn Creager and Karmen Graham each scored 17 points to lead NKU, but the Norse shot just 34.5 percent from the field in the second half.
"I thought Karmen and Karyn both had good games, and I also was pleased with how Betsey Clark played," Winstel said.
"Bellarmine just came out strong in the second half and made some big plays."
NKU held a 35-32 halftime lead, but Bellarmine used a 13-2 run early in the second half to build a 54-44 advantage. The Lady Knights hit 62.1 percent from the field in the second half.
Wimsatt dished out a game-high 10 assists and grabbed four rebounds.
Connie Myers finished with 12 points and seven rebounds for NKU. Bellarmine's collapsing defense, however, contested many of the inside attempts and forced Myers into a 4-for-15 shooting performance from the field.
Peyton, meanwhile, made all four of her attempts from three-point range and helped rally Bellarmine.
"Peyton was a difference maker for them with her perimeter shooting," Winstel said. "They also were able to get some transition baskets, and Wimsatt hit some big shots in the second half,"
NKU will continue its four-game road trip Dec. 2 with a 5:30 p.m. contest at Indianapolis. The Norse also will play at Saint Joseph's at 2 p.m. Dec. 4.
"It doesn't get any easier for us, not with Indianapolis next, and then Saint Joseph's," Winstel said.
*Article by Sports Information