Running to raise awareness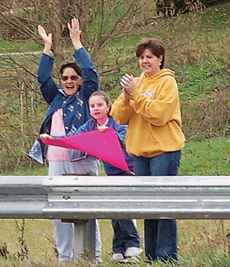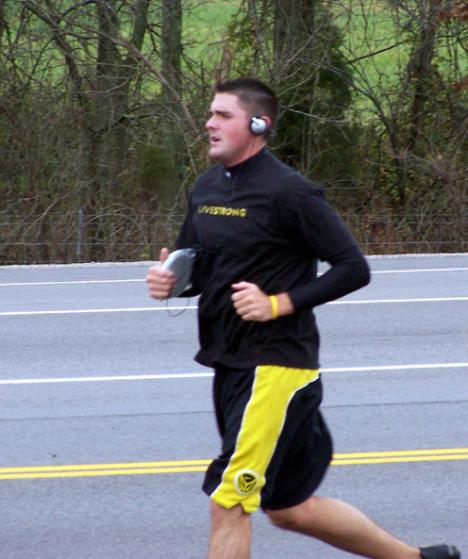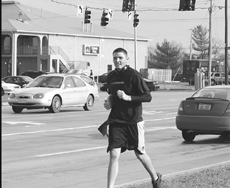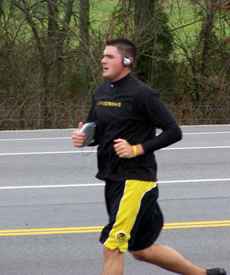 Although Adam Zeigler had three days off from school for Thanksgiving break, he did anything but relax.
Zeigler spent almost three hours of his afternoon Wednesday, Nov. 24 running 20 miles across Mason County along the AA Highway.
But as difficult and strenuous as his journey was that day, it wasn't nearly as difficult as the journey his best friend Kevin Bauereis has made his entire life.
Bauereis has cystic fibrosis, a chronic disease that causes mucus to build up in many of the body's organs, including the lungs and pancreas, which leads to severe digestive, breathing and growth problems.
Bauereis takes antibiotics to treat lung infections, has an inhaler to open his breathing tubes, goes through chest physical therapy to break up the mucus in his lungs and he must takes enzymes every time he eats to help him digest the food.
Zeigler saw what his friend goes through on a daily basis, so he dedicated his run to Bauereis by raising money for the Cystic Fibrosis Foundation.
About a month prior to his run, Zeigler sent out approximately 75 letters to family, friends and the community telling them about his relationship with Bauereis and asking them for their support.
Bauereis said he was speechless after Zeigler gave him the letter. "After I read it the second time, I realized the respect and care that he had for me and having CF," Bauereis said.
By the day of the run, Zeigler raised almost $6,000. Zeigler said he never imagined he would raise that much money. Originally, he thought he could raise between $500 and $1,000.
After Zeigler started his run, his mother Billie Barbour went home and checked the mail. That day they received 15 letters and $650 in donations. She said the day before the run they received 24 letters and $1,000 in donations. Barbour said the response that her son received was "shocking."
Zeigler continued to receive donations even after the run.
He received a donation at church the following Sunday, and an eighth grade class at a school in nearby Ripley, Ohio is selling lollipops to raise money.
Students in Zeigler's literature class have also donated money.
Zeigler said he will wait until December, most likely just before Christmas, to send in the donations to the Cystic Fibrosis Foundation.
A new friendship
Bauereis and Zeigler, both 22-year-old biology majors, started at Northern Kentucky University in the fall of 2001, and met during their freshman year in an introduction to biology class.
The two became closer friends their sophomore year when they sat next to each other in an organic chemistry class. After that, they started taking almost all of their classes together.
Bauereis' life hasn't been the same since he met Zeigler. When he first came to NKU, Bauereis said he wasn't very social and was self-deprecating about having cystic fibrosis. He just went to school, went to work and then went home.
After getting to know Zeigler, the two of them started hanging out and Bauereis finally started to experience some of the college life that he expected when he started at NKU.
Because they have many of the same classes, the two of them spend a lot of time studying together. Zeigler said there is an unspoken competition between them in class and they both strive to do better than one another. However, Zeigler said Bauereis usually does better than him.
"It's been really good for both of us," Zeigler said. "It's motivated us both to do well because I don't want to get beat by him and he doesn't want to get beat by me, grade wise. It keeps us both studying. I think it's drastically improved both of our grades."
After graduating, Bauereis and Zeigler plan to attend medical school. They are going to take the MCAT in April of 2005 and start medical school in the fall of 2006. During their year off before medical school, they both would like to volunteer at a hospital.
Zeigler said he loves to work with children and wants to be a pediatrician. Bauereis said he hopes to be an anesthesiologist. Both of them also want to research cystic fibrosis.
Running for a cause
Zeigler said he has always wanted to do something for Bauereis, and finally decided in October to run across Mason County to raise money for the Cystic Fibrosis Foundation.
Ziegler said he hopes to make his Mason County run an annual event and would like to get more people involved.
Zeigler was an all-state lineman for his Mason County High School football team. In high school he weighed 320 pounds and now is down to 205 pounds as a result of running.
Zeigler said he started running his freshman year of college, and now runs almost every day. Because he runs so much, Zeigler said he decided to start doing it for a good cause.
A day of fortune
The day of his run, Zeigler was fortunate enough to have nice weather. It was sunny and warm that day in Maysville, yet started to rain about 10 minutes after he finished and it snowed the next day.
Zeigler cited his yellow Live Strong armbands as motivation during his run and said he would look down at them and think about how hard living with cystic fibrosis would be. "Things could be just so much worse," he said. "I wasn't going to give up. People with diseases and things like that, they don't give up."
During the run Zeigler joked with his mother telling her that he might run all the way to Alexandria.
Zeigler said he was surprised to see so many people show up for his run and donate money. "The support from the community and Northern Kentucky University, staff, administration, the health center where I work, it's just been tremendous; to see that many people come out to support me, Kevin and our cause," he said.
"I did it in honor of Kevin, but hopefully it opens some eyes to everybody that cystic fibrosis is out there. There's a lot of people who have it.
"Seeing how Kevin has it and he goes through every day and he never looks back, it's just so inspirational. It's like 20 miles is nothing thinking in that term."
Barbour said her son has been charitable since he was a child. She said one of her earliest memories of his goodwill was when he was in the second grade. That year Zeigler had a classmate whose family didn't have much money. He felt sorry for the boy, so he packed some of his Teenage Mutant Ninja Turtle action figures in a shoebox, wrapped them up and gave them to the classmate.
When Zeigler was a freshman in college, he had a friend who was in a car accident. Zeigler stayed with his friend in the ICU for days to help him recuperate, Barbour said.
Bauereis said what Zeigler did sends a positive message to others with cystic fibrosis. "He doesn't only care for me, he cares for others," Bauereis said.
"With him donating it to research it's really good because it will help find a cure. I think there's a cure out there. It's just we have to find it, and hopefully this helps."
Donations to the Cystic Fibrosis Foundation can be sent to: Adam Zeigler 493 Glenbrooke Drive Maysville, KY 41056