Saving Lake Inferior's wildlife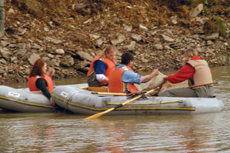 Josh Blair
Josh Blair
Dr. Richard Durtsche and students from his vertebrate zoology class search Lake Inferior for wildlife during the lake's drainage process.
The animals were then transported to Doe Run Lake by the Kentucky Department of Fish and Wildlife Resources.
Lake Inferior is undergoing a $2.4 million renovation. The project, funded by private donations, will add improvements to the lake that include a bridge, waterfalls, walkways and landscaping.