Norse defeat 2000 Champs, 82-50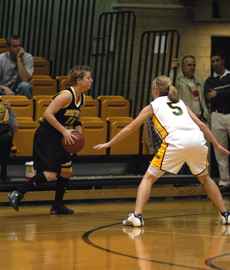 Blue
HIGHLAND HEIGHTS, Ky. – During the first half of play Saturday night, it seemed like old times in Regents Hall for the Northern Kentucky University women's basketball program.
The 2000 NKU national championship squad trailed the current NKU team by just a 35-33 score at halftime, and it appeared the championship team had a realistic chance at winning the exhibition contest against the 2004-05 team.
But reality – and some torrid outside shooting by NKU – set in on the 2000 national champions in the second half. The 2004-05 Norse used a 20-3 run in the second half and shot 61.5 percent from the field after halftime to roll to an 82-50 win over the 2000 national champions.
Nikki Perkins paced NKU with 17 points on 5-for-6 shooting from three-point range. The Norse connected on 12 three-point shots in 20 attempts, including 6-for-8 shooting in the second half.
Connie Myers scored 15 points and grabbed five rebounds for NKU, while Karmen Graham added 13 points and seven rebounds. Karyn Creager chipped in 12 points for the Norse, who forced 21 turnovers.
With the score tied at 39-39 with 17:46 left in the game, NKU ran off a 20-3 spurt to take a 59-42 lead.
Creager, Perkins, Graham and Betsey Clark each drained three-pointers during the run, while Myers added a pair of inside baskets.
The 2000 national champions, shot just 25 percent from the field in the second half.
NKU opens its regular-season schedule against Georgetown (Ky.) College in Regents Hall, followed by a game against Central State.
*Article by Sports Information