Get up!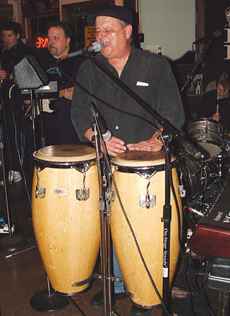 30 p.m. Cover is $10 after 10 p.m.. Above, Steve Coghill of the Bluebirds pounds out a beat on the congo drums.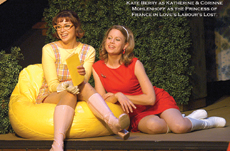 Cincinnati Shakespeare Festival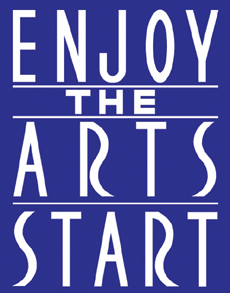 There's nothing to do in Cincinnati.
Uttered so frequently from the mouths of bemoaning college students and other young professionals, the unfounded declaration has become "fact." But most people in the entertainment and art industry say that a lack of motivation is the culprit, not Cincinnati's resources.
Painter Jane Higgison, who has lived in West Chester for six years, finds Cincinnati to be anything but boring. She says Cincinnati has an open and diverse art community.
"I think it reflects a culture that's more vibrant," Higgison said.
Megan Breier, Public Relations Director for the Cincinnati Shakespeare Festival (CSF), said, "There's tons to do if you look."
Breier, a recent graduate of Centre College in Danville, Ky., said that CSF is affordable for college students. With $16 regular student admission, and $10 Student Rush tickets (purchased right before the show), there's no reason not to go – unless your favorite fare leans toward rented movies and leftover pizza.
Whether your flavor is the great outdoors, art, music, movies, food or dancing the night away; Cincinnati has something to offer everyone, even the broke college student.
Scrooge: Free Fun
You're not out of luck, even if you just bought textbooks. There are fun destinations all over Cincinnati that require no money whatsoever.
Unknown to most, a world famous art attraction is right here in Cincinnati. The Pendleton Art Center houses more than 150 artists, the most under one roof in the world, according to the Guinness Book of World Records. See the artwork for free every last Friday of the month during the Final Friday Gallery Walk.
"The event brings a wide range of people," Pendleton artist Jane Higgison said. You see positive proof as you walk through the eight floors of studios – carousing kids off the street, aspiring college students, foreign visitors and elderly art fanatics. Everyone mingles indiscriminately, sipping complementary wine, munching on free hors d'ouvres, and chatting about artwork.
"The antiquity of the structure adds a certain flavor that you expect around artists," Higgison said.
If art is not your thing, parks abound in Cincinnati. Walking is an alternative to "becoming one" with your couch in front of the TV.
The 110-acre California Woods Nature Preserve, right off Kellogg Avenue, is full of unobtrusive boardwalks, bridges and trails, including two National Recreation Trails. Sorry, no dogs allowed. Go in the fall during the late afternoon and the sun descends through the trees at just the right angle and paints the forest in crimson and gold. But beware the mosquitoes; repellent is a good idea.
Mt. Airy Forest is Cincinnati's first municipal forest, with almost 1,470 acres full of hiking trails, athletic fields, Frisbee golf, picnic areas, ponds, floral displays and the Mt. Airy Arboretum, sort of a tree sanctuary. The nearby Mt. Airy Dog Park allows pet owners to bring their pooches for a boisterous, leash-free romp in the grass and dirt. Rocky, a small and rotund dog, made snorting, panting sounds as he was carried back to the car by his babysitter Leah Monhollon of Sycamore Township. "I've got him for the weekend," she said. "I'm just spoiling him. He's tired."
Eden Park is another outdoor favorite, located adjacent to the Cincinnati Art Museum. There's a basketball court, the sparkling Mirror Lake to circumnavigate and hills for sledding in the chilly months. Climbing enthusiasts can scale the rock wall overlooking the lake. There are hidden "trails" in the wooded area around the park, blazed by the repeated ventures of ardent nature watchers. Approximately 186 acres is enough to keep any walker busy. For the history buffs, memorials honoring war veterans are scattered throughout the park. There's a Presidential Grove, with trees planted in honor of our nation's past leaders.
The Cincinnati Art Museum is a fantastic Sunday afternoon destination. The galleries include Near Eastern, Asian, European, American, Native American, African-American, Egyptian, Roman, Greek, and contemporary work. There's a new Cincinnati Wing that features hundreds of drawings, watercolors and textiles. You can see special exhibits for an extra fee of around $10.
Afterwards, stroll through a tropical paradise (we can pretend, can't we?). The Krohn Conservatory is right down the road from the museum, overflowing with exotic greenery and complete with a waterfall – an ideal getaway during the winter months. The spring butterfly show is worth the extra $5.
Cheapskate: Under $10
If you're willing to spend some minimal money, there's even more fun to be had.
For art with exercise, the Pyramid Hill Sculpture Park and Museum only puts a $3 dent in your wallet Tuesday through Friday, but $4 on Saturday or Sunday. The 265-acre outdoor venue hosts mostly contemporary sculptures. "Still Life" by Ed Benavente, and "Abracabra," a 2.5 story high work of metal by Alexander Liberman, are definite conversation pieces.
The Taft Museum of Art houses almost 700 pieces of art. The majority of work is European and American, but there is a notable collection of more than 200 Chinese ceramics and artworks. The museum is free on Wednesdays, but parking will cost a few bucks. On other days, admission is $5 for students, but includes parking.
The Contemporary Art Center warrants a walk-through. Admission is free on Mondays, but $5.50 for students any other day. An extra plus would be to attend Contemporary Fridays, an eclectic event that occurs every third Friday of the month in addition to the normal galleries and exhibits. "There's a lot going on," said Jennifer Timm, a regular visitor and Marketing Director for CSF. "You can dance … there are light shows." She said it's usually a young crowd. Admission is only $5, drinks are a couple of bucks, and there are free snacks. At least it's a deviation from the local bar scene (past parties featured magicians and a drag show).
For $6.75 you can see three museums in one at Cincinnati Museum Center at Union Terminal, which houses the Cincinnati History Museum, Cinergy Children's Museum and the Museum of Natural History ' Science. The OMNIMAX Theater is reasonably priced at $6.75.
In Cincinnati, students can enjoy professional music performances for little more than a movie ticket price.
Cincinnati Symphony Orchestra always offers $10 student tickets, but on College Nites you can see the concert and attend an after-party with free appetizers, a live band, prizes, a cash bar and a chance to meet the musicians for the same price.
The University of Cincinnati's College Conservatory of Music usually offers free admissions to all its shows. Some more renowned performances still have a ticket price, but for $10 you can grab Student Rush tickets 30 minutes before curtain at Saturday matinees.
Big Spender: Under $20
Things can get pricey when you're looking for original fun, but even poor college students can swing $20 for a diversion from study and work.
The Newport Aquarium at the Levee is a favorite destination for families, but it can be just as fun for couples (complemented by a trip to Cold Stone Creamery, where $4 buys enough fattening ice cream to kill a horse ).
A chance to view everything from tiger sharks to jellyfish to alligators only costs $17.95, but the price drops to $13.95 per adult when you book a group of 10 or more in advance. On a recent afternoon, one father pointed out the large plastic sharks above the entryway to his son. The boy froze, uttering a hushed "Wooooah!" We can only hope he made it through the real t
hing.
Grab some coffee at Barnes and Noble Booksellers, and satisfy your sweet tooth with Cheesecake Factory baked goods for $4. Perusing the magazine collection and commandeering a book can be a welcome relief from the noisy humdrum of the work week. (Or you can follow one man's example and fall asleep in one of the overstuffed chairs.)
The Cincinnati Zoo and Botanical Garden is worth a day-long excursion. The cost is $11.50 for adults with $6.50 for parking. You'll save by carpooling, packing lunch, or going with a group of 15 or more, which knocks the price down to $9 each.
The performing arts are abundant in Cincinnati, and many companies offer student discounts.
Cincinnati Ballet performances can be enjoyed for under $20, if you don't mind the nosebleed sections on the third floor balcony. Upcoming shows include "Cinderella" and "The Nutcracker."
Playhouse in the Park offers $15 Student Rush tickets up to two hours prior to curtain. After the show, Mt. Adams offers a relaxing stroll and bars with inviting atmospheres.
The Cincinnati Shakespeare Festival is superb for the theater na