Eminem still growing up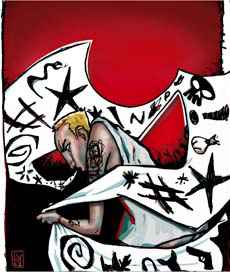 KRT Campus
"Encore," Eminem's first album since his star-making turn in the 2002 hit movie "8 Mile," finds him at a crossroads.
Will he continue to roll with the bad-boy sarcasm that made him hip-hop's most notorious voice, or will he try to buff his vulnerable, leading-man Hollywood credentials in a bid for wider mainstream acceptance?
A little bit of both, it turns out. By turns high-minded and juvenile, introspective and crass, "Encore" is the dreaded transitional album in the career of an artist who wants to grow up but still hasn't figured out how.
Eminem is trying to figure out what he'll do for an encore after being rap's No. 1 controversy magnet for the last five years.
In this context, "growing up" is not necessarily a compliment: Some of the best bits on "Encore" are the most uninhibited and silliest. When Eminem takes his material, and himself, more seriously, he sometimes stumbles.
On one song, Eminem addresses one of the innumerable controversies that have dogged him in recent years.
Last January, a homemade tape from Eminem's teenage years surfaced in which he is heard spouting several racial slurs after breaking up with an African-American girlfriend. "I singled out her whole race, and for that I apologize, I was wrong," he raps on "Yellow Brick Road."
At his best, Eminem plays off with devilish charm, his pride and self-doubt battling for supremacy, tinged by humor and pathos.
At his worst, he succumbs to the vile name-calling and juvenile humor that tainted even his best albums. Once again, he bashes his former wife, Kim, in a foul-mouthed tirade punctuated by the sound of someone violently retching.
"Crazy in Love" portrays the couple's love as a war zone, where fists are exchanged as often as kisses, spousal abuse as a sign of endless commitment. Typical of the album's weaker tracks, its musical frame hangs on a weak and obvious sample from Heart's hard rock hit "Crazy on You."
"My First Single" succumbs to more bathroom humor with suitably disgusting sound effects, and adds a spritz of snarky homophobia.