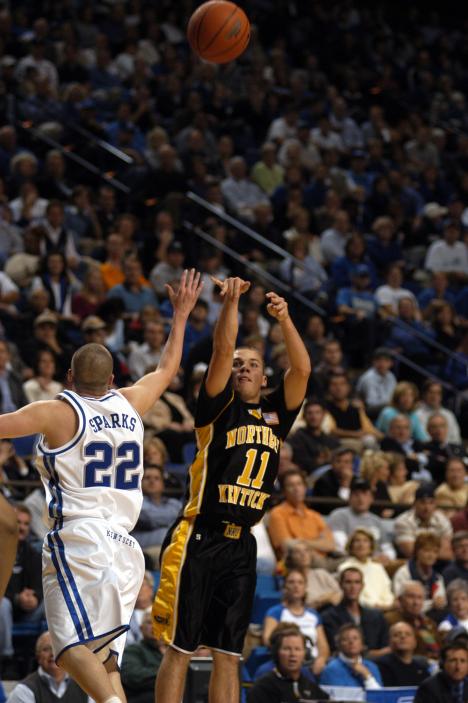 Blue
In this week's hot seat, John interviews basketball player Mike Kelsey.
Kelsey is the leading returning scorer for the Norse. In an exhibition game against the University of Kentucky Kelsey led the team with 27 points.
John Rasp: After the UK game, Coach Bezold is now averaging one technical foul per game, which averages to about 30 technicals this year. How many do you think he will get?
Mike Kelsey: I'll say seven.
JR: Last year, you shot 80 percent from the free throw line. NKU women's basketball player Karyn Creager shot over 87 percent. Is she a better free throw shooter than you?
MK: Percentage-wise, last year, she was. I'd still rather have me on the line at the end of the game compared to anyone else.
JR: Do you think you'll outshoot Creager from the line this year?
MK: Sure. Not to take anything away from her, because I still think she's probably the best free throw shooter on her team and probably the best free throw shooter in the conference.
JR: I was looking at the UK basketball chat room on ESPN.com, and they were trying to trade two of their weaker players for you. Would you be interested in this trade?
MK: This year, I'll take my team over them. If I was junior in high school being recruited by Kentucky it would be a different story.
JR: Who's the best basketball player in your family (Katie Kelsey played at NKU and Pat Kelsey played at Xavier)?
MK: Overall basketball player, probably my sister Katie. It's weird, because we are all different types of players. I'm a shooter, and no one else is really a shooter. My brother was just a good point guard that got everyone else involved. Katie was just an all-around good player. Katie was probably the best overall.
JR: When you were on fire against Indianapolis or UK, did you talk trash?
MK: I don't really talk trash. I don't get involved unless people are starting to say something to me that is disturbing. I don't try to initiate, but if they say something vulgar I'll say something back to them.
JR: Fact or Fiction: You guys were all laughing when Coach Bezold got his first technical?
MK: Fiction. We were mad.
JR: Why do you wear the number 11?
MK: I've always worn it. All through high school I wore it. It was always my favorite number. I wore it in baseball because of Barry Larkin but I stopped playing baseball in grade school.
JR: Compare Coach Bezold's coaching style with Coach Shields?
MK: Totally opposite. Bezold is more in your face and good motivator. Shields is more of a laid-back teacher. Bezold is defensive-minded, while Shields is more offensive-minded.
JR: Have you ever been dunked on during a game?
MK: Not in game. I've been dunked on a lot in practice. I almost got dunked on at Kentucky on an alley-oop, but luckily it was a bad pass. I'll usually get out of the way or foul somebody pretty hard if it looks like I may be dunked on.