Volleyball streak at 11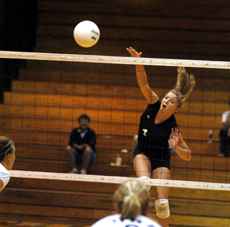 Blue
HIGHLAND HEIGHTS, Ky. – Kristin Koralewski and Liz Holmes finished off the home season in style Saturday afternoon and led Northern Kentucky University to its 11th consecutive victory with a three-game sweep over the University of Charleston (W. Va.).
Koralewski hammered down 19 kills and finished with a .500 hitting percentage as NKU eased by Charleston, 30-20, 30-18, 30-22, in Regents Hall. The senior All-American also added two service aces in her final home match as NKU improved to 21-8.
Holmes put on a powerful attacking display and finished with 11 kills and a .500 hitting percentage. The freshman also added 10 digs and served up two aces for NKU, which attacked at a .457 clip as a team.
Koralewski and Holmes were at their collective best during the second game, when they combined for 11 kills in 12 attempts without an error. Koralewski slammed down seven kills in eight attempts, while Holmes converted all four of her attacks into kills.
Andrea Lanham continued her solid play at setter for NKU and finished with 45 assists, three service aces and five digs. Lynne Fischesser also served up three aces and finished with five kills.
NKU will open play in the GLVC Tournament at 6 p.m. (EST) Thursday at Evansville, Ind. NKU, which finished 13-3 in the GLVC, will be the third seed and meet sixth-seeded Saint Joseph's College in the first round.
The winner of that match will face second-seeded Southern Illinois University at Edwardsville – which has a first-round bye – at 6 p.m. (EST) Nov. 12. SIUE owns a 24-6 overall record, and the Cougars posted a 14-2 mark in the GLVC.
The GLVC championship match will be played at 3 p.m. (EST) Nov. 13. The University of Southern Indiana will be the No. 1 seed and host for the GLVC Tournament.
*Article by Sports Information