Norse battle but fall to UK 91-73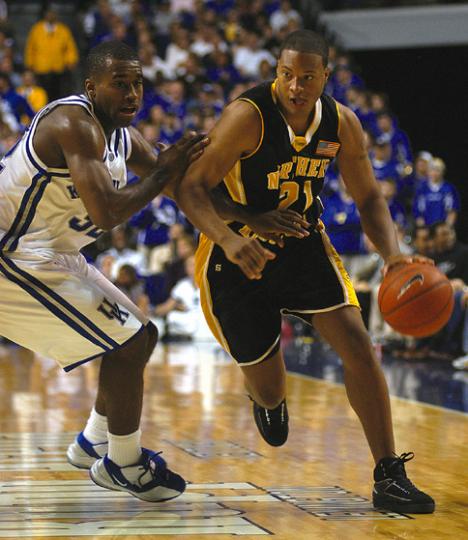 Blue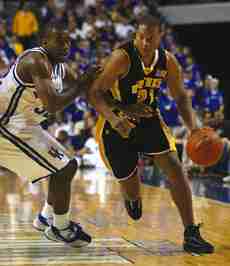 Blue
LEXINGTON, Ky. – To most of the 18,824 in attendance, it was just an exhibition game and a chance to see the heralded University of Kentucky recruiting class in action for the first time.
But for Northern Kentucky University's Dave Bezold, it was a dream finally realized.
Bezold, entering his first season as NKU's head coach, made his sideline debut Wednesday night against UK in an exhibition game and watched his Norse drop a 91-73 decision in Rupp Arena. The Wildcats used a 15-0 run in the first half to wipe out a 20-12 deficit and forced 26 NKU turnovers to win the first-ever meeting between the two schools in men's basketball.
For Bezold, who spent the previous 14 years as an assistant coach at NKU, it was an experience he will never forget.
"Playing against Kentucky in Rupp Arena, now that's a tough way to start off as a head coach," Bezold said with a laugh. "Going up against the most storied college basketball program in history is something none of us will ever forget. I sure will have plenty to remember since it was my first game as head coach.
"My dream job was always to be the head coach at Northern Kentucky University, and I was able to do that tonight for the first time. The fact my first game was against Kentucky made it even more special, because UK is a class program with a tremendous head coach, and they are going to win a lot of games this season."
For much of the first half, it looked as though NKU might be able to spring the huge upset. Mike Kelsey scored 11 points in the first seven minutes of the game as NKU bolted out to an 18-10 lead. After Harrison Morton hit a jumper to give the Norse a 20-12 advantage, Rajon Rondo made a pair of free throws to slice the deficit to 20-14, setting up the key play of the first half.
Morton drove the middle of the lane and appeared to have a layup. UK's Randolph Morris, however, swatted the ball on its downward flight, but goaltending was not called and Bezold was hit with a technical foul for being out of the coaching box.
Rondo hit two more free throws, and UK was off and running. The Wildcats capped the 15-0 run with a three-pointer by Kelenna Azubuike for a 27-20 lead with 7:44 remaining before halftime. UK eventually led by eight points twice in the first half, but Brian Lewin nailed a pair of three-pointers in the final 3:40 to help NKU claw within 41-38 at the break.
NKU used 7-for-12 shooting (58.3 percent) from three-point range in the first half to stay in the game. Kelsey netted 18 of his game-high 27 points before halftime.
"We had a tough time defending their (NKU's) perimeter game. I was really impressed with Mike Kelsey and the way he shot the ball," UK head coach Tubby Smith said. "I thought we were doing some things well defensively until I saw the shooting percentages. Our press got going and gave us some momentum in the second half, so it was kind of two different halves."
In the second half, UK forced 17 turnovers with its full-court pressure. Kelsey hit a three-pointer at the 12:44 mark to bring NKU within 51-49, but UK used a 14-2 run to build a 65-51 advantage with 8:56 left.
After a tip-in by Tory Reed cut UK's lead to 69-57 with 7:22 remaining, NKU committed six turnovers against the Wildcat full-court press during the next three minutes. Several times, the Norse were unable to get the ball across midcourt.
"Their press was relentless, and it caused us a lot of problems," Bezold said. " It was like an ocean, with waves crashing down on us. We used a lot of timeouts and ran out (of timeouts) fast. Closer to the end, Tubby Smith called off the dogs, and that was a class act. He coaches a classy program."
Azubuike scored 26 points to lead UK, which made 60.5 percent of its shots from the field in the second half. Rondo finished with 16 points for the Wildcats, and Chuck Hayes added 15 points.
Reed scored 12 points in his NKU debut, while Lewin added 11 points. The Norse finished 11-for-19 from three-point range, with Kelsey going 7-for-10 from downtown.
"It was a fun night and a great atmosphere," Kelsey said. "I told the guys that there's no better place in college basketball to play. Rupp Arena is the highest of highs in college basketball. It was a great experience and we'll learn from this.
"It sure sounded like a whole lot more than 18,000 people. I've never played in front of this many people, not even half that. It was just a good experience."
The crowd of 18,824 was the largest to ever watch an NKU sporting event in person. The previous NKU record was 10,836 on Dec. 2, 1993, when the Norse played at the University of Dayton and suffered a 99-82 setback against the Flyers.
*Article by Sports Information