Lot designations altered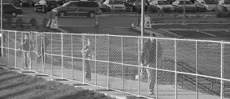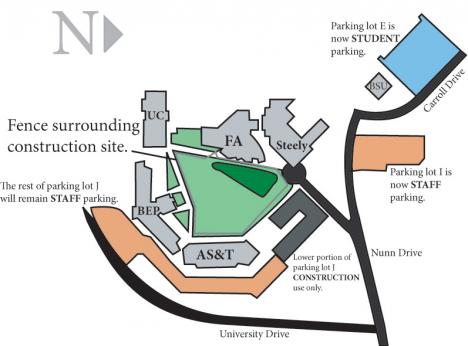 With great beauty comes great…parking problems?
Not according to Assistant Vice President for Facilities Management Larry Blake, who has extended free parking in the new garage into the spring semester because of the inconvenience to students. Blake says it will "more than negate" the lost parking due to lake renovations.
In an effort to keep student traffic and construction away from each other, the construction company in charge of the lake project is currently building a temporary road that will run parallel to Nunn Drive. In the meantime, a main concern for some students and professors is what lot to park in now with all of the construction activity going on.
Lot I was changed from a student parking lot to a faculty parking lot and has 276 parking spaces. Lot E was a faculty lot, changed to a student lot and holds 194 parking spaces. It would appear students are losing 82 parking spaces this way.
That's where the parking garage comes in. Right now, with 250 more parking spaces being made available, there shouldn't be many problems finding a spot on campus.
"Without the garage even being finished, we've more than made up for the parking lost during the construction," Blake said. "When the garage is done there will be a total of 650 spaces, including the handicap spaces."
One thing that Blake isn't sure that students are aware of is the bottom level of the garage. "Maybe it's the signage, but the bottom level of the lot is always empty every time I go over there. The middle level is the one you enter off the street, there's more parking below it."
If for some reason the lake renovations last longer than anticipated, the garage will be free for the duration of the project. Completion is scheduled for the end of summer, and the garage will be $2 per car starting next fall.
Paying to park in a garage on campus is a necessity, according to Blake. The price of maintaining a garage is very expensive, about $1 million every four years. The $2 that patrons will pay goes primarily toward cleaning, re-striping and resealing the concrete.
"Not charging students is going to put a dent in our funds," Blake said, "but it gets you out of the weather, and there's much less walking than if this would have been a flat lot."
Blake believes that in the future the flat lots will mostly disappear and says that the university has plans in the works already for another parking garage.