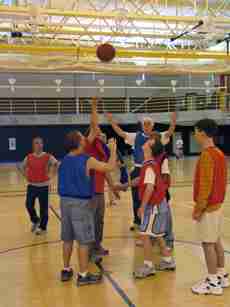 Adam McIver
You're sitting on the bleachers in the recreation center feeling nervous while waiting to play basketball with a group of handicapped adults.
You hear a door open, and they pour into the gym. One of them yells "Basketball!" as he runs toward you, and at that moment, you realize you're doing a good thing.
This is how one group of NKU students spent their Saturday morning. They participated in one of five ways to serve the community as part of the fourth annual Service on Saturday Nov. 6.
"It's not easy to get up in the morning, but if it's helping other people, it's easy to get up," freshman special education major Sarah O'Bryan said.
"I think they appreciate what we do for them, and it makes their day."
In past years, 45 to 80 students woke up bright and early to volunteer for SOS.
"Today, we had 116 students show up and volunteer at the agencies. This has been the most successful SOS for the Freshman Service Leadership Committee," Tiffany Mayse said.
Mayse is the adviser for FSLC, which sponsors SOS, and the Leadership and Development Coordinator for the Office of Student Life.
The students met in the University Center TV Lounge at 10 a.m., divided into five groups, dispersed to their locations and worked until 2 p.m. Breakfast and lunch were provided in the lounge.
Stacey Firsich, a freshman psychology major, was one of the food servers and participated in the Starfire Council event.
"Hopefully (the volunteers) will gain friendship," Firsich said.
Firsich also said she hopes that by serving the community, the people will "learn that this age group is not just about themselves."
Freshman Erika Collier said, "I thought it would be fun to help people out who needed it."
Collier, who worked at the sign-in table, said that she wants them to know "that people care for them and know they are needed."
SOS participated in Bingo at Villa Springs Retirement Home, activities with the Brighton Center youth group, sports with the boys who live at the Children's Home of Northern Kentucky, helping families in need with technology and played basketball with a group of handicapped adults.
The adults came with an organization called Starfire Council, based in Cincinnati.
Lauren Able, a Starfire outing leader, said, "We basically do this to get out and interact with other people. Most of them sit at home all day. It's something normal for them."
Firsich said, "Some of the Starfire members can really get into the game. Nonetheless, it was very, very exciting. Participating in this event has truly been an eye-opener.
"It has taught me to never take my opportunities and privileges for granted."
Cheri Taylor, a senior psychology major, said she participated in SOS in the past and chose to join Starfire this year.
"Last year, I had a lot of fun," she said. "We help so many people. It's a way for everyone at Northern to come together and to give back to our community and help all different groups of people that need this."
"I think that the best way to learn leadership is through service to others," Mayse said.
"I hope that this program will help the students see that the community does need our help and that it is critical for students to give back to their community.
"We sometimes take things for granted and volunteering can help us see what is truly important."