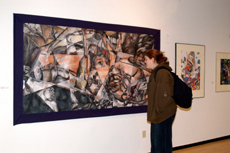 Mark Bennett
Students in the art department are presenting the reasons they've spent four years of tuition in the fourth annual Senior Art Exhibit.
The show includes works from graphic design, photography, studio art and art education majors; some of who had never taken art classes before college.
Sixteen student's works are on display in this important event, which is the final exam before life in the real world begins for them.
Students such as Daniel Moore have made work that deals with his life experiences as well as his roots.
Moore took old photos of his ancestors and manipulated them in a way that removes time, personal content and sentimental value. He does this by taking the original continuous tone image and turning it into a high contrast tonal separation known as a two-step posterization. The result is a series of iconic images made up of pure black and white silhouettes that could be placed in the photo album of any viewer.
Moore said he chose to make such high contrast images because they deal with his feelings of his ancestors and how he feels removed from them and their past.
One might notice some frames are empty among Moore's work, this is because he has no photos of these ancestors and rather than leaving them out, he has left a place for them on the wall just as he has left a place for them in his life.
Moore's work is somewhat reminiscent of Andy Warhol's silk screens in the way he takes an image full of colors and breaks it down into high contrast black and white. Moore is also working on a film about his family as well as using these photos as companion pieces to his honors thesis.
Rachel Ligon has also chosen photographs as her preferred medium although her work is the polar opposite of Moore's. She has captured moments of life that affect the viewer as well as herself. Ligon's work depicts scenes of far off places, taken on her travels across two countries and 17 cities.
Ligon has taken photos throughout Europe that she said have allowed her "brief access to the lives of others." She said the photos appeal to her "sense of beauty, liveliness which enrich our souls."
Graphic design is also represented in this exhibit of senior portfolios. Joe Roebel has developed his aesthetic from years of reading comic books. Roebel uses his imagination when thinking of new ideas for logos, letterhead, business cards, coffee sleeves and ad campaigns. He has put this work in action when developing a full line of products for Flour Girls and Rising Sun.
Influenced by the Pop Art moment, art nouveau and Expressionism James Goldschmidt made his mark with wood block cuts and great writing. He uses word play along with imagery and a basic color palette on large square panels that are made up of smaller squares. He originally wanted to do these pieces on 10'x10′ board but realized he could not get them out of the door of his workspace.
He said, "Chaos and order are not opposites. They are part of the same continuum, the same spectrum." His feelings are reflected in the pieces "What is Black and White and Red All Over" and "I've Been Beaten Black and Blue."
The art exhibit is on display through Nov. 12. Other senior art exhibits will be on display in December and in spring.