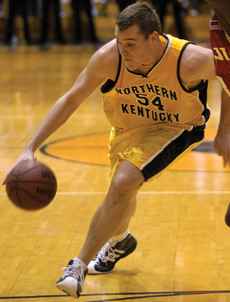 Blue
After 195 days of waiting, Dave Bezold will begin his tenure as head coach of the Northern Kentucky University men's basketball team on Nov. 3 against the University of Kentucky.
Bezold, hired on April 22, becomes the fourth coach in school history, replacing Ken Shields who ended his career with 360 wins.
Coach Bezold hopes to build on Coach Shields' legacy, calling on a host of senior leaders to help.
The Norse return one of the strongest backcourts in the Great Lakes Valley Conference. Mike Kelsey, Jordan Stowers, Steve Purdon, and Sean Rowland – all seniors – return to lead the backcourt.
Sharp shooting Mike Kelsey returns as the leading scorer for the Norse from the 2003-2004 season, averaging 16.9 points per game.
"Mike is the best shooter in the conference, but also has the best work ethic," Bezold said. "We hope that rubs off on the rest of the team."
Steve Purdon, another shooter from the outside, teamed with Kelsey to knock down 151 three-pointers last season. Purdon averaged 10.7 points per game while shooting 39 percent from free-throw line.
Sean Rowland and Jordan Stowers figure in as the ball-handlers in this deep squad.
"Sean is a very experienced leader on floor," Bezold said. "And Jordan is probably the best pure point guard for us."
The Norse will also receive help from seniors at center with Pat Cary, Tory Reed, and Adrian Wilkinson. With the loss of graduated post-man and leading rebounder, Jesse Rupe, Pat Cary knows that he will have to step up his play to fill the void.
"With the shooters that we have, I really don't have to worry about scoring," Cary said. "I just need to work hard and battle on the inside."
Cary will get some help from former University of Kentucky football player Derek Smith. Smith, a forward, begins his first season with the Norse.
"Derek is a super athlete, but we're still trying to peal off the football layers," joked Coach Bezold.
Although there is depth in the senior class, Coach Bezold plans to play the entire roster for his up-tempo style of basketball.
"Everybody on the roster will contribute," said Bezold. "Anybody can step up on any night."
Among those players are University of Louisville transfer Bryant Northern, sophomore forward Kevin Reinhardt, sophomore guard Kevin Schappell and freshman forward Harrison Morton.
This Norse squad will be tested frequently and early, facing a tough schedule that includes exhibition games against NCAA Division I opponents Kentucky, Cincinnati, and Ohio State.
Northern will also will play home-and-away games against Division II powerhouses such as Southern Indiana, Michigan Tech, and Kentucky Wesleyan in the regular season.
"In order to achieve our goals, we need to beat those types of teams," Kelsey said.
Purdon said, "We're looking forward to playing those guys. It's one of the benefits of playing for NKU, you get to play great competition."
Even with the great senior leadership the Norse have, there will be a period of adjustment.
"We need some time to blend, but guys like Kelsey, Rowland, Purdon, and Stowers will help us get to where we want to be," Bezold said.
There is one common goal for this Norse squad – win the National Championship.
"Our number one goal every year is to win the national championship," Sean Rowland said.
"Anything less would be a disappointment."
Kelsey said, "We have high expectations for this season. We need to buy into the scheme that Coach has given us and come together as a team."
Coach Bezold shares the same sentiments as his team, and they begin their hunt for the national title versus the University of Kentucky at Rupp Arena in Lexington.