Men's soccer ends season with 2-1 loss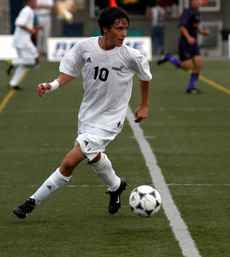 Blue
QUINCY, Ill. – Scott Smith scored two goals in the second half Sunday as Quincy University posted a 2-0 win over Northern Kentucky University in the first round of the Great Lakes Valley Conference Tournament.
Smith tallied his first goal at the 57:59 mark by tapping the ball into the right corner of the net. He sealed the win for Quincy at the 65:50 mark when his 10-yard shot found the back of the net in the left corner.
Quincy (10-5-4) held a 7-3 edge in shots attempts, including a 4-1 advantage in the second half. The fourth-seeded Hawks also did not allow a shot on goal the entire match and defeated NKU for the second time this season.
It was the third loss in row following a span of seven games where the Norse went 6-1. The Norse lost earlier in the week to Indianapolis and Gannon.
Senior goalie Nate Madden recorded two saves for fifth-seeded NKU, which finished its season with a 12-6-2 record. The 12 victories were the most for the NKU men's soccer program since 1996, when the Norse posted a 14-5-1 mark.
NKU increased its win total by eight this season under second-year head coach John Basalyga. A year ago, the Norse finished with a 4-9-3 record.
Madden is the only senior on the team, and he will be hard to replace.
Goalie Madden had one of the best seasons in the net in the history of the NKU soccer program.
With only one players lost to graduation, the Norse will look for some of the younger players to step up next season.
Freshman Dan Impellizzeri, Kyle Roberts, Chris Thompson, Jason Larkin, and Andy Bacon are all making significant contributions
Next season looks just as promising for the Norse.
*Article by Sports Information