Political punk rock legend collaborates with alternative rockers on new album
Hang on for a minute...we're trying to find some more stories you might like.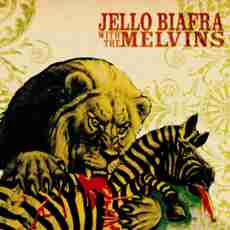 Alternative Tentacles Records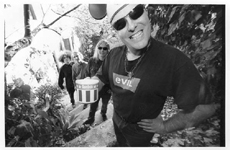 Alternative Tentacles Records
Even the Melvins agree there's always room for Jello, and seeing as how it's election season, they couldn't have picked a better time.
The Melvins and Jello Biafra, former lead singer of punk legends the Dead Kennedys, have unleashed "Never Breathe What You Can't See," a good dose of what fans miss most about punk, in its eight songs of fury.
The collaboration of Biafra's ideas with the Melvins' musical integrity, both of which have spanned two decades, meld nicely to bring home an instant classic.
The album opens up with "Plethysmograph," and drives through like a dump truck driving through a nitroglycerin plant. Flames of social discontent flare out of the mouth of one of the past 20 years' most vocal men, and former candidate for mayor of San Francisco.
Biafra has stayed busy through the years with his Alternative Tentacles label, releasing a handful of spoken word releases.Always relentless, Biafra continues that tradition here.
Songs such as "The Lighter Side of Global Terrorism" let listeners know that Biafra hasn't calmed with age.
He has taken center stage to say all the things we haven't been able to say in the past few years. And like with the Dead Kennedys, this one is sure to touch everyone. If you're offended, if you're challenged and if you're now aware, they have done the job they set out to do.
By reputation we know that when the Melvins are straightforward they are one of the most talented groups of musicians, but as always they're ready to destroy what you thought about music.
Instead of losing talent over the years like most bands, the Melvins prove that time only makes them stronger.
This album is their second release of the year, bringing the total to 22 albums in 18 years.
"Enchanted Thoughtfist" is one of the catchiest Melvins riff in years. With the punk ideology of Biafra, the Melvins are back in tow with their beginnings as one of the strangest punk bands in Washington in the early 1980's.
"Islamic Bomb" is like the Dead Kennedys reunited. It was bound to happen, but it is one of the strongest songs on the album, running more than six minutes. Its length is equal to almost three Dead Kennedys songs. The time is well spent; the lyrics alone are almost a short story. The guitars are punchy like the Melvins signature sound but fuzzed out a bit more for that cracking at the seams, unbridled energy.
As always the complex rhythms of Dale Crover's drumming and Kevin Rutmanis' bass are nothing short of on the mark, accenting King Buzzo's sludge-ridden Gibson perfectly.
For that steady regiment of cynical humor, check out "Yuppie Cadillac," a song about life, liberty and the pursuit of the biggest SUV on your block. Tongue-in-cheek hasn't been this fun in a long time.
"McGruff the Crime Dog" contains the lyrics you're most likely to remember after the first listen through. Biafra and the Melvins have offered their piece to the puzzle of pushing the envelope, but in familiar territory.
It's amazing how it has been since the Dead Kennedys that anyone has said anything so dangerous, so poignant and so blatant it almost feels as if society not ready to hear this. But Biafra and the Melvins insist you do.