Author shows secrets of Greek life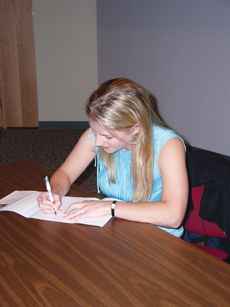 Jeremy Mize
The secrets are out.
What occurs behind closed doors during sorority rushes, meetings and parties has been revealed in the book "Pledged," in which journalist Alexandra Robbins posed as a college student and befriended a group of sorority women.
Robbins' spoke to more than 150 students, the majority of them members of Greek life, about her experiences in writing "Pledged" during at lecture at Northern Kentucky University Wednesday, Oct. 27.
Many NKU sorority members are enraged about Robbins' accounts of Greek life and say she reinforces negative stereotypes about sororities.
During the question and answer session after Robbins' speech, most of the attitudes toward her were negative. However, afterward Robbins signed books and spoke with people individually and received an overall different response.
"It was a particularly strong reaction in the crowd," she said. "Afterward when people came up to talk to me, it was overwhelmingly positive."
Other sorority members from universities across the Tristate, including the University of Dayton, Butler University in Indianapolis and Centre College, were in attendance as well.
Jen Seppelt, a senior Theta Phi Alpha member from the University of Dayton, said "Pledged" hinders sororities in improving their values.
"When you are giving ["Pledged"] to high school seniors and freshmen in college this is what they think sororities are about," Seppelt said. "Therefore, we are cutting out a lot of good girls with good morals that would fit right in with the values that our founders had.
"You're perpetuating myths, you're perpetuating stereotypes," she said. "This is not reality. It's reality in one sorority or two sororities; it's realities with individual girls across the nation.
However, as a collective whole, it's not a reality, and by perpetuating this it is bringing more negative light on the Greek system which we really want to avoid."
"Where are we in this book?" Jen Hesch, Seppelt's friend and sorority sister, said. "We aren't given an accurate representation of Greek life."
Robbins said she wasn't out to write a book about scandals, but "it would have been irresponsible for me as a journalist to leave things out just because I thought they were too negative."
Travis Rothe, a junior Sigma Phi Epsilon member at NKU, said "Pledged" sends a message that Greek life has a lot of problems, but also shows the Greek community that there are things they need to improve.
"The thing is students have reprimanded her for reporting the good and the bad," he said, "but the bad things need to be changed."
Robbins said many sorority members say she has no right to author a book about sororities because she is a GDI- a god damn independent.
"That's like saying you can't write accurately about the Cincinnati Bengals if you're not a Cincinnati Bengal," she said. "I think that's ridiculous. I think that some sorority sisters operate with blinders on and are unwilling to accept any comments, positive or negative, from any outsider who's not a part of the system."
It was easy for Robbins to write "Pledged" objectively, she said, because she was expressing the sentiments of many sorority members that she met when writing the book.
"I wanted to accurately reflect the views of the sorority sisters across the country to whom I spoke with," she said. "Everything I wrote in the book isn't some single-handed observation coming from me alone. Everything in there has already been voiced by dozens, if not hundreds, of other sorority sisters. I felt that that was objective.
"I was extremely meticulous about reporting facts, which is why there are 30 pages of end notes at the end of the book documenting all of the facts so you can see that this wasn't a book based on speculation. It was based on solid reporting."
Robbins said the messages in "Pledged" can help sororities improve themselves.
"I believe sororities should come away with the idea that even if their chapter seems flawless, there are other chapters out there that need help," Robbins said. "They should be open to embracing change for the better."